MUIC Meets and Greets Officials from Partner Universities
March 13, 2023
2023-03-17 2:59
MUIC Meets and Greets Officials from Partner Universities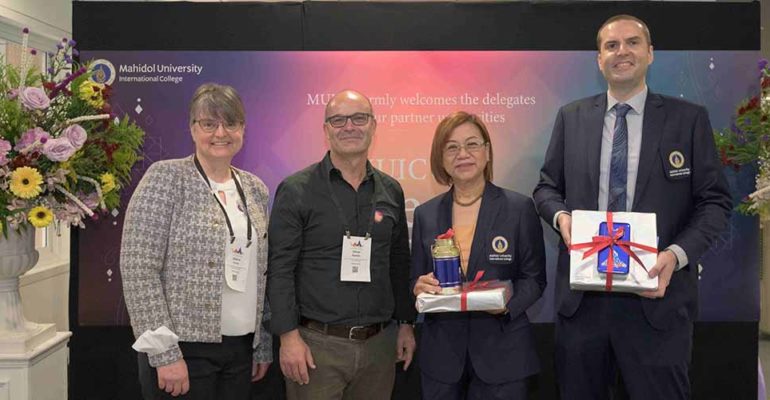 MUIC Meets and Greets Officials from Partner Universities
Mahidol University International College (MUIC) welcomed to its "MUIC Meet and Greet Day"  104 representatives from 58 of its more than 100 partner universities abroad.
MUIC's Office of International Affairs organized the event held on March 13, 2023 at Charinyarasami Hall. Prof. Chulathida Chomchai, M.D., the Dean of MUIC welcomed the guests while Asst. Prof. Dr. Alexander Nanni, Associate Dean for International Affairs, assisted by several students, gave a presentation about MUIC.
The guests were treated to three numbers of Thai dance performance: The first was the Siamese Long Drum ("Theut Theung" Dance) which is performed in Thai parades during traditional events. It was followed by "Khan Dok" Dance ("Fon Khan Dok"), a traditional dance from the former Lanna Kingdom in the north of Thailand performed when bestowing blessings. The third performance was the "Rum Wong," a traditional dance which originated in Ayutthaya.
Following the Thai dance performances, the guests were given a guided tour of MUIC facilities and of Mahidol University's Salaya campus. Coming back from the tour, they were treated to a lunch of Thai cuisine followed by a Thai floral arts workshop where the guests were introduced to basic Thai floral arrangement in a workshop. The guests enjoyed the workshop saying it allowed them to relax and be prepared for their participation in the APAIE Conference held in Queen Sirikit National Convention Center from March 13 to 17, 2023.