MUIC Stages Virtual Open Days 2021
June 26, 2021
2021-06-26 7:45
MUIC Stages Virtual Open Days 2021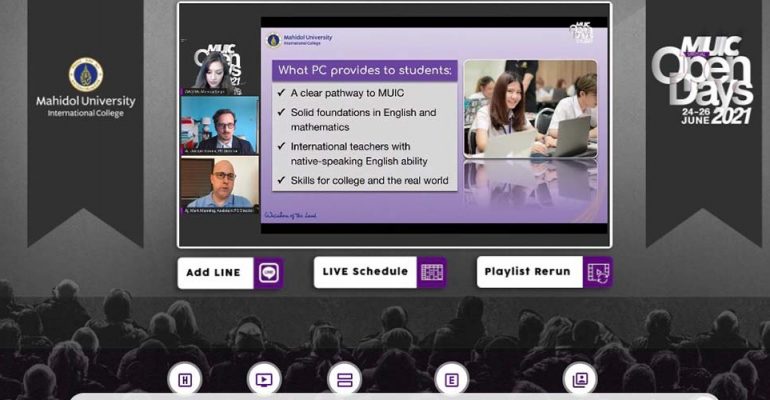 MUIC Stages Virtual Open Days 2021
Mahidol University International College (MUIC), organized "MUIC Virtual Open Days 2021" on June 24-26, 2021 with the theme "EXPANDING POTENTIALS" through an online interactive virtual program.
Assoc. Prof. Chulathida Chomchai, M.D., Dean of MUIC gave the opening remarks. For three days, the virtual online event featured Business and Entrepreneur Day, Science Day, and Art, Politics and Languages Day. MUIC lecturers, current students, and special guests came to talk about MUIC's seven international bachelor's degree programs, two master's degree programs, Preparation Center for Languages and Mathematics (PC) as well as Exchange Program, Pathway to Medicine Program, Admission Information, and Student Clubs.
Moreover, through the online virtual interactive program, participants met with MUIC's professors, and collected information about the programs that they are interested in from the comforts of their home. They were able to have a one-on-one talk with the professors or senior students at the virtual program fair, take a virtual tour of the campus, and meet current students and learn more about campus life.
About 1,500 students and parents who are interested in MUIC's international programs participated in the three-day online event.