MUIC Students 1st Runner-up in "Service Solution Design Competition 2023"
August 11, 2023
2023-08-17 10:18
MUIC Students 1st Runner-up in "Service Solution Design Competition 2023"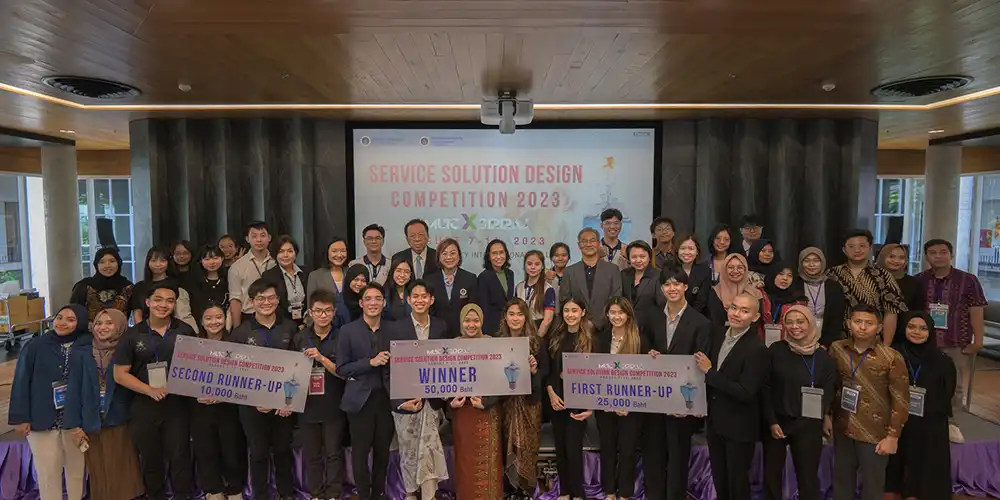 MUIC Students 1st Runner-up in "Service Solution Design Competition 2023"
A team from Mahidol University International College (MUIC) won as 1st Runner-up in the recently concluded Service Solution Design Competition 2023.
The Designomics team was composed of Nadthawee Promprasit, Shann Chongwattananukul, Peerawat Mongkolnimit, Kornchanok Lin, from the Science and Business Administration divisions. The members received 25,000 Baht worth of scholarship grant.
The Makara team from University of Indonesia composed of Aisya Jenina Albayroni, Ahmad Rafi Agus Salim, Farrah Nabilla Irfan, and Novanza Rayhan Natasaputra won 1st Place, receiving 50,000 Baht worth of scholarship grant. Meanwhile, the Delta APU Team composed of Cajun Tai Ka Joon, Ang Jia Ze, Yip Jin Xiong, Yong Shuet Li from Asia Pacific University (APU), Malaysia was the 2nd Runner-up and received 10,000 Baht worth of scholarship grant.
The winners were announced on August 11, 2023, the last day of the competition, at Charinyarasami Hall, Aditayathorn Building.
There were nine teams composed of 36 students from Thailand, Indonesia, Malaysia, Vietnam and Hong Kong Special Administrative Region.
The competition aimed to come up with the best service solution that will provide physical, mental and emotional well-being to elderly patients. Aside from that, such solutions should also have a feasible business component and an aesthetic packaging design and promotional value.
The board of judges was composed of Clinical Prof. Visit Vamvanij, M.D., Director of Siriraj Hospital; Assoc. Prof. Piyapat Dajpratham, Chairman, Siriraj Academic Center of Geriatric Medicine; Dr. Pirasan Punyagupta, Executive Director, Touch Technologies Co., Ltd.; and Dr. Laddawan Jianvittayakit, Associate Dean for Environment and Sustainable Development, MUIC.