MUIC TikTokers Win Awards in UNFPA Contest
August 8, 2023
2023-08-08 8:00
MUIC TikTokers Win Awards in UNFPA Contest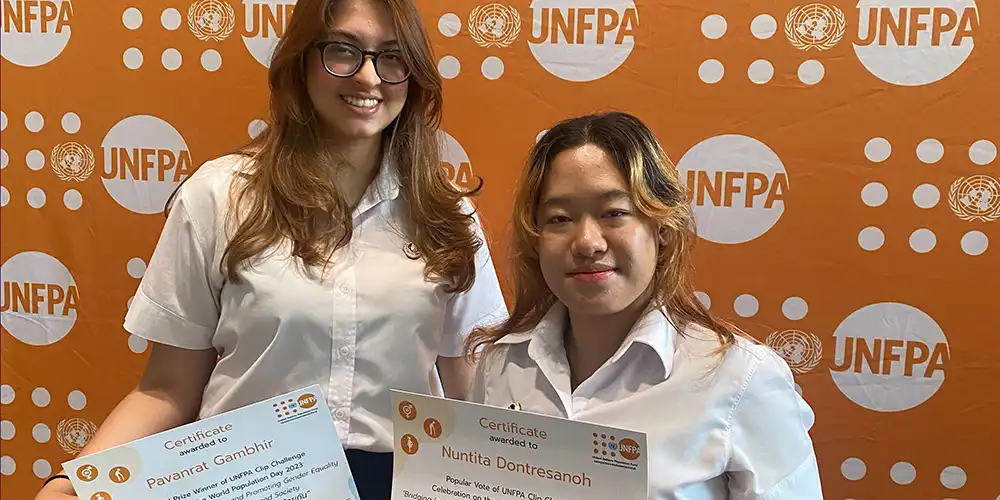 MUIC TikTokers Win Awards in UNFPA Contest
Four students from Mahidol University International College (MUIC) won in the recently concluded "Clip Challenges with United Nations Population Fund (UNFPA) Thailand" video clip competition.
Ms. Pavanrat "Sanjana" Gambhir, a sophomore in the Media and Communication program, won 5th Place. Her team mates, Ms. Nuntita "Nutti" Dontresanoh, International Relations and Global Affairs freshman; Maneerat "Rhea" Gandhi, and Thet Htut Zaw ("Troy"), both sophomores who are also in the Media and Communication program, won Popularity Awards. The awarding ceremony was held on July 11, 2023 at the Pullman King Power Hotel in Bangkok.
Ms. Nuntita said their team, "Equality Never Gets Old," worked hard on their entries to the competition which had the theme "Connecting All Groups, Genders and Ages Together." The video clips were uploaded on popular video hosting service, Tiktok.
She said it took their team one day for planning and another two days for shooting and editing the videos.
With no official leader, the team divided the work among themselves. Ms. Nuntita said, "I was in charge of the scope of all responses and edited the logos. Rhea edited all of the videos. Troy and Sanjana, on the other hand, scouted the location and were in charge of videotaping."
Ms. Nuntita added that should there be another opportunity, they will join another video competition.
Since the team focused on the topic of ageing, the team gave this quote about growing old: "It is common for people to grow up and get older. We should stop being scared, and let's prepare together."
To see the team's videos, click on this link:
https://www.tiktok.com/@equality.never.gets.old?_t=8eFio5KkL8D&_r=1
___________________
Experiential learning is one of the many ways MUIC students can learn new concepts. Applying what they have learned about the aging experience into short videos that can reach numerous audiences earned this team several awards in the UNFPA competition. Whether you're interested in social science or media courses, try clicking these links for more information:
International Relations and Global Affairs
https://muic.mahidol.ac.th/eng/programs/undergraduate-programs/social-science/
Media and Communication
https://muic.mahidol.ac.th/eng/programs/undergraduate-programs/communication-design-and-media-communication/