MUIC Team is Semi-finalist in Business Case Contest
October 26, 2022
2022-10-26 9:23
MUIC Team is Semi-finalist in Business Case Contest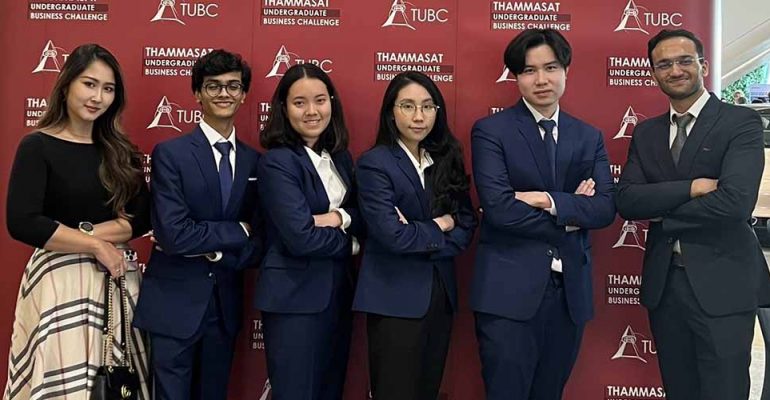 MUIC Team is Semi-finalist in Business Case Contest
A team from Mahidol University International College (MUIC) made it to the semi-final round of the Thammasat Undergraduate Business Challenge (TUBC) on October 4-8, 2022 at Millennium Hilton Bangkok.
The team, 4 Forces Consulting, which presented a real business case about Great Wall Motor (GWM), a Chinese automobile manufacturing company, was composed of the following:
• Ms. Kanya "TingTing" Sae-Liu (majoring in International Business)
• Ms. Krittaporn "Angel" Sirichai (Economics)
• Mr. Sahil "Sahil" Nawalkha (Finance)
• Mr. Songyot "Yot" Sinthanaphontawan (Finance)
The 5-day event, participated in by 17 teams several of which were from abroad, started on October 4, 2022 with an opening ceremony and networking night where all the participants met and learnt more about each other.
The second day was the excursion day where participants immersed themselves in authentic Thai culture and lifestyle.
Day three saw the case being handed out to the participants with each country's representative teams focusing and working diligently to crack the case in a span of 28 hours. Each team continued to improve and make the final changes to their presentations and finally finished off the day with the end of the case-cracking session.
The preliminary and final rounds were held on the last day of the event at the GWM Experience Center in Icon Siam where all the teams competed and the Top 3 teams were announced.
Although 4 Forces Consulting did not make it to the Top 3, they were honored and proud to represent MUIC and Thailand at such an impressive stage in the company of talented international teams. Although they were not on the Top 5 finalist team in TUBC, they are however considered as included among the Top 20 teams globally. MUIC Case Club and MUIC were also beyond proud to have them as a representative team.
Throughout this 5-day event, 4 Forces Consulting also had opportunities to widen their international and business networks by interacting with the other competing teams as well as learning how each team works on business cases.
The MUIC Case Club offers a huge shoutout and appreciation to Thammasat University's BBA international program for organizing such a successful event. MUIC Case Club looks forward to joining more international competitions such as this.
About TUBC
TUBC (Thammasat Undergraduate Business Challenge) is hosted by the BBA international program of Thammasat University. Teams from prestigious universities are selected on an invitation-only basis by the TUBC committee and the TUBC advisor.
About MUIC Case Club
Spearheaded by Leading Minds with the aim to empower its club members with skills equipped for their future careers. MCC members connect and collaborate with peers and professionals in the real world, nurturing them to be leaders in their respective fields.
For more information, please visit
MUIC Case Club's socials:
Facebook: www.facebook.com/muic.caseclub
Instagram: www.instagram.com/muiccaseclub
LinkedIn: www.linkedin.com/company/muic-case-club/
Email: muic.caseclub@gmail.com