MUIC Team is Winner of HSBC Case Competition 2023
April 29, 2023
2023-05-02 2:16
MUIC Team is Winner of HSBC Case Competition 2023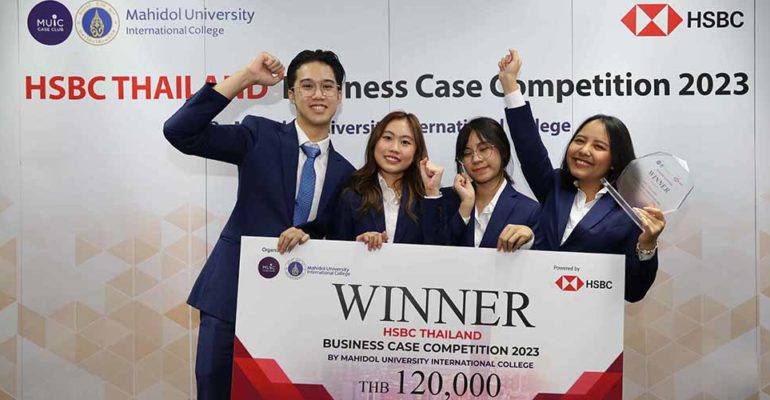 MUIC Team is Winner of HSBC Case Competition 2023
A team of students from Mahidol University International College (MUIC) won the grand prize in the final round of the HSBC Case Competition 2023 held on April 29, 2023 at HSBC Bank Lumpini Head Office, Bangkok.
The winning team, Excelsior Consulting, was composed of the following:
– Ms. Narinya Yingcharoenthana (International Business major, Tourism & Hospitality minor)
– Ms. Aileen Liu (Finance major, Marketing minor)
– Ms. Yanisa Sirisomboonchok (Finance major, Economics minor)
– Mr. Peerawat Mongkolnimit (International Business major, Marketing minor)
On the other hand, the 1st Runner-up was Team Gojo Consulting from Thammasat University's Faculty of Economics composed of:
– Ms. Napratch Ongsakul
– Mr. Thiennapas Praesangeim
– Ms. Sarita Chanoknamchai
– Mr. Weeraya Khongpatimakorn
The 2nd Runner-up was Team Miracle of Chulalongkorn University's Faculty of Economics. The members were:
– Mr. Yaohaichen Lin
– Mr. Bivut Vaidya
– Ms. Tanya Chindaudom
– Mr. Punn Suttiluk
The 3rd Runner-up was Team Zucchini of Thammasat University's Faculty of Economics composed of:
– Mr. Siwat Teerattanaphon
– Ms. Pimra Phromchana
– Mr. Nathavudt Phootanakit
– Mr. Jade Utaiwan
HSBC Thailand Business Case Competition 2023 is an annual competition for undergraduates to showcase their knowledge and critical evaluating skills to gain practical experience in real-world business scenarios.
The top 4 teams were selected based on the accumulated points of Round 1 and Round 2 results held on April 26, 2023 and April 27, 2023 respectively.
The panel of judges for the final round included seven distinguished and top-caliber executives from various fields as follows:
– Mr. Ashwin Rajgopal, CEO, Brand's Suntory International Co., Ltd.
– Dr. Sangsuk Pithayanukul, CEO, Siam Health Group Co., Ltd. / Smooth-E Co., Ltd.
– Mr. Stephen Ashworth, Managing Director, Thailand & South East Asia, Hutchison Ports
– Mr. Sutheep Ratnabhas, President Asia, Maxion Wheels (Thailand) Co., Ltd.
– Khun Sudaphan Thaveethamsathit, Managing Director, Head of Markets & Securities Services, HSBC Thailand
– Khun Tanyapong Thamavaranukupt, Co-President, Ascend Money (True Group)
– Mr. William Heinecke, Founder and Chairman, Minor International PCL
The opening ceremony was graced by Mr. Giorgio Gamba,Chief Executive Officer, HSBC Thailand, welcoming all the participants and prestigious judges to officially start the Final Round of the case competition.
The MUIC Case Club offered its congratulations to all the winners. "The efforts and hard work throughout the competition is immensely appreciated," the club said.

The club also gave recognition to its executives who have been the pillars behind the successful organizing of the HSBC Case Competition. They are as follows:
1. Ms. Intira Setavoraphan, President of MCC 2022
2. Mr. Sihapanha Moun, Vice President of MCC 2022
3. Mr. Piyush Saraf, Treasurer & Master of Ceremony
4. Mr. Dharmawat Jiraniti, Co-Head of Development & Strategy
5. Ms. Nuttakarn Vititsuwanakul, Co-Head of Development & Strategy
6. Ms. Kornchanok Lin, Head of Marketing
7. Mr. Patr Patrathiranond, Co-Head of Operations
8. Ms. Chelin Park, Co-Head of Operations
About MUIC Case Club
MUIC Case Club is an organization led by the leading minds of Mahidol University and focuses on building professional youths through different competitions to become high caliber leaders in different industries.
For more information, please visit
MUIC Case Club's socials:
Facebook: www.facebook.com/muic.caseclub
Instagram: www.instagram.com/muiccaseclub
LinkedIn: www.linkedin.com/company/muic-case-club/
Email: muic.caseclub@adminWebsite: https://muic.mahidol.ac.th/eng/hsbc-thailand-business-case-competition-2023/