4 Finalists Emerge from Round 2 of HSBC Case Competition 2023
April 29, 2023
2023-05-01 7:20
4 Finalists Emerge from Round 2 of HSBC Case Competition 2023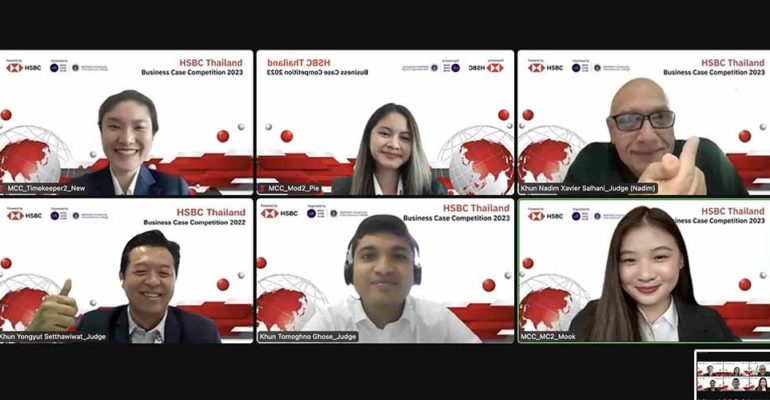 4 Finalists Emerge from Round 2 of HSBC Case Competition 2023
On April 27, 2023, Mahidol University International College (MUIC) hosted the HSBC Case Competition 2023, with 19 teams from seven different universities across Thailand participating in the event.
After a fierce competition by all the teams showcasing their absolute best effort, the top 4 finalist teams were announced as follows:
– Gojo Consulting, Thammasat University, Bachelor of Economics, International Program
– Zucchini, Thammasat University, Bachelor of Economics, International Program
– Miracle, Chulalongkorn University, EBA Programme, Faculty of Economics
– Excelsior Consulting, Mahidol University International College
The MUIC Case Club, which organized the competition, congratulated the top 4 finalist teams who will now be proceeding towards the final round of HSBC Thailand Business Case Competition 2023 on April 29, 2023.

HSBC Thailand Business Case Competition 2023 is an annual competition for undergraduates to showcase their knowledge and critical evaluating skills to gain practical experience in real-world business scenarios.
The seven participating universities across Thailand are:
– Assumption University
– Bangkok University
– Chulalongkorn University
– Kasetsart University
– Mahidol University
– Panyapiwat Institute of Management
– Thammasat University
Round 2 of the competition had a distinguished panel of 19 judges from various fields as follows:
– Khun Andrew Stotz, Co-founder and CEO at A. Stotz Investment Research
– Khun Anthony Watanabe, Chief Sustainability Officer, Indorama Ventures Ltd.
– Khun Bryan Neal, Strategic Advisor, Human Resources and Organization Development Thailand
– Khun Charoenporn Kaewmanorom, Head of Marketing, Channel Development, & Business Operations at True Digital Group
– Dr. Kitti Setavoraphan, Senior Vice President, Frasers Property Thailand
– Khun Jacqueline Kuratli, Group CFO, Dow Chemical (Thailand)
– Khun Jimmy Jensen, Managing Director, Freightzen Logistics
– Khun Nadim Xavier Salhani, Co-Founder & Managing Director, INgenic Solution Co., Retail Management Consultant
– Khun Neville Nicholson, Director and Managing Consultant, Fintech Management Services
– Khun Parth Shah, HSBC Thailand 2019 Winner, Associate at AWR Lloyd
– Khun Patima Intravisit, SVP Wholesale Business Assets Management, HSBC Thailand
– M.R. Sudhipanee Yukol, Executive Director at Marketing Association of Thailand
– Khun Thomas Ballard, General Manager, Czarnikow Group Ltd.
– Khun Tomoghno Ghose, Senior Business Planning and Execution Manager, HSBC Thailand
– Dr Thanakrit Chintavara, Vice Director at Government Big Data Institute (GBDi)
– Khun Thanawin Suwattanakorn, Winner 2021, Head of Growth and Demand Generation at Frontdesk Group
– Khun Thanyaporn Krichtitayawuth, Executive Director at Global Compact Thailand
– Dr Wallapa Suengkamolpisut, Former Strategic HR Planning and Talent Acquisition Manager, AIS
– Khun Yongyut Setthawiwat, Managing Director – Group Treasurer, Thai Union Group PCL
The opening ceremony was graced by Khun Sudaphan Thaveethamsathit, Managing Director, Head of Markets & Securities Service, HSBC Thailand, who welcomed all participants and the distinguished panel of judges to kick start the second round of the case competition.
The event commenced with encouraging speeches by the Club's President, Ms. Intira (Nina) Setavoraphan, and Vice President, Mr. Sihapanha (Panya) Moun, to uplift and empower all participants.
Lastly, the MUIC Case Club gave recognition to all its club executives who have been the biggest supporters behind successfully organizing the HSBC Case Competition. The executives are as follows:
1. Ms. Intira Setavoraphan, President of MCC 2022
2. Mr. Sihapanha Moun, Vice President of MCC 2022
3. Mr. Piyush Saraf, Treasurer & Master of Ceremony
4. Mr. Dharmawat Jiraniti, Co- Head of Development & Strategy
5. Ms. Nuttakarn Vititsuwanakul, Co-Head of Development & Strategy
6. Ms. Kornchanok Lin, Head of Marketing
7. Mr. Patr Patrathiranond, Co- Head of Operations
8. Ms. Chelin Park, Co- Head of Operations
About MUIC Case Club
MUIC Case Club is an organization led by the leading minds of Mahidol University and focuses on building professional youths through different competitions to become high caliber leaders in different industries.
For more information, please visit
MUIC Case Club's socials:
Facebook: www.facebook.com/muic.caseclub
Instagram: www.instagram.com/muiccaseclub
LinkedIn: www.linkedin.com/company/muic-case-club/
Email: muic.caseclub@adminWebsite: https://muic.mahidol.ac.th/eng/hsbc-thailand-business-case-competition-2023/