MUIC Hosts Round 1 of HSBC Case Competition 2023
April 28, 2023
2023-04-28 9:26
MUIC Hosts Round 1 of HSBC Case Competition 2023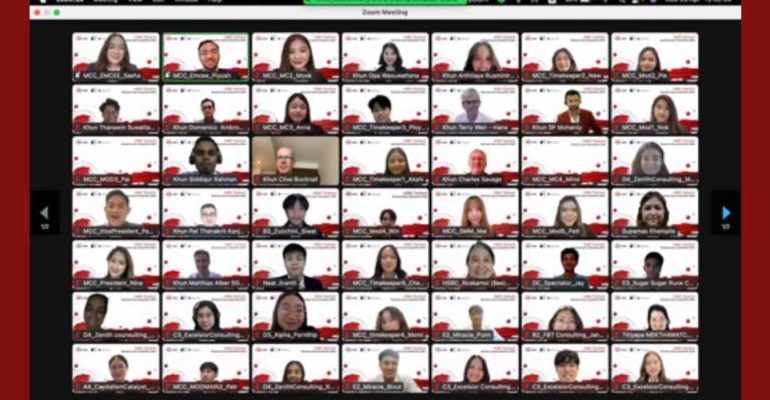 MUIC Hosts Round 1 of HSBC Case Competition 2023
Mahidol University International College (MUIC) hosted the first round of the HSBC Case Competition 2023 on April 26, 2023, with 19 teams from seven different universities across Thailand participating in the event.
After the first round's intense competition, the judges have ranked all the teams who will now proceed to Round 2. They are as follows:
1. Capitalism Catalysts, Bangkok University, School of Entrepreneurship and Management
2. Zucchini, Thammasat University, Faculty of Economics
3. Excelsior Consulting, Mahidol University International College
4. Alpha, Assumption University Martin de Tours School of Management and Economics
5. Miracle, Chulalongkorn University Faculty of Economics

The seven participating universities across Thailand are:
– Assumption University
– Bangkok University
– Chulalongkorn University
– Kasetsart University
– Mahidol University
– Panyapiwat Institute of Management
– Thammasat University
HSBC Thailand Business Case Competition 2023 is an annual competition for undergraduates to showcase their knowledge and critical evaluating skills to gain practical experience in real-world business scenarios.
Round 1 of the competition was judged by 15 judges from various fields as follows:
– Khun Terrence Weir, CFO, Hana Microelectronics
– Khun Thanakrit Kanjanasiripakdhi, Manager, DKSH Smollan Field Marketing (Thailand) Ltd.
– Khun SP Mohanty, Country Head of ISB, HSBC Thailand
– Khun Arthitaya Rusmintratip, Management Associate, Global Leaders Program (GLP)
– Khun Opa Wasuwattana, SVP and Team Head ISB, HSBC Thailand
– Khun Pramod Khandelwal, Managing Director/CFO, Aditya Birla Chemical (Thailand)
– Khun Domenico Ambrosino, CFO Asia, Danieli Co., Ltd.
– Khun Ronald Leeuw, VP ISB, HSBC Thailand
– Khun Thanawin Suwattanakorn, Winner 2021, Head of Growth and Demand Generation at Frontdesk Anywhere
– Khun Clive Bucknall, HSBC Thailand Alumni
– Khun Poranee D'Alelio, Vice President, Country Finance, DKSH (Thailand)
– Khun Siddiqur Rahman, SVP Relationship Manager ISB, HSBC Thailand
– Khun Charles Savage, HSBC Thailand Alumni
– Khun Matthias Alber, CFO and Procurement Director TH, CLM, PH SAINT-GOBAIN THAILAND
– Khun Wiwit Kiat-anupong, Principal, Lakeshore Capital Partners Co., Ltd.
The opening ceremony was graced by Khun Roskamol Vongchowanart, Head of Sustainability at HSBC Thailand, who also welcomed all the participants and judges.
The event was kicked off with a welcoming speech by the club's President and Vice President, respectively: Ms. Intira (Nina) Setavoraphan and Mr. Sihapanha (Panya) Moun, who shared some words of encouragement.
The HSBC Case Competition 2023 is a platform for young and aspiring business professionals to hone their skills and showcase their talent. MUIC Case Club extends its heartfelt congratulations to all the participants and looks forward to Round 2 of the competition to be held on April 27, 2023.
The MUIC Case Club also gave recognition to its executives who have been the pillars behind successfully organizing the HSBC Case Competition. They are as follows:
1. Ms. Intira Setavoraphan, President of MCC 2022
2. Mr. Sihapanha Moun, Vice President of MCC 2022
3. Mr. Piyush Saraf, Treasurer & Master of Ceremony
4. Mr. Dharmawat Jiraniti, Co-Head of Development & Strategy
5. Ms. Nuttakarn Vititsuwanakul, Co-Head of Development & Strategy
6. Ms. Kornchanok Lin, Head of Marketing
7. Mr. Patr Patrathiranond, Co-Head of Operations
8. Ms. Chelin Park, Co-Head of Operations
About MUIC Case Club
MUIC Case Club is an organization led by the leading minds of Mahidol University and focuses on building professional youths through different competitions to become high caliber leaders in different industries.
For more information, please visit
MUIC Case Club's socials:
Facebook: www.facebook.com/muic.caseclub
Instagram: www.instagram.com/muiccaseclub
LinkedIn: www.linkedin.com/company/muic-case-club/
Email: muic.caseclub@admin
Website: https://muic.mahidol.ac.th/eng/hsbc-thailand-business-case-competition-2023/