MUIC's Case Club Hosts Meet-and-Greet
July 25, 2022
2022-08-11 1:42
MUIC's Case Club Hosts Meet-and-Greet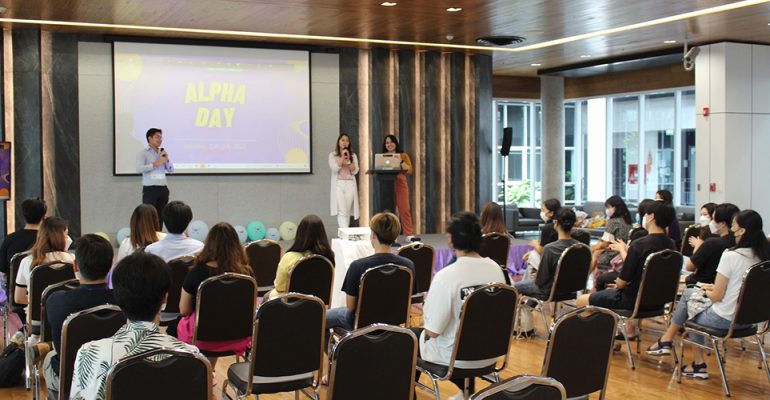 MUIC's Case Club Hosts Meet-and-Greet
MUIC Case Club (MCC) hosted "Alpha Day," a meet-and-greet event for MCC members on 25 July 2022.
This activity provided an opportunity for the 5th generation of MCC members to learn more about the club's rules and regulations as well as its organizational structure.
Alpha Day began with welcoming speeches and words of encouragement from Asst. Prof. Dr. Alessandro Stasi, Chair of the Business Administration Division, along with the club's advisors, namely, Dr. Lokweetpun Suprawan and Dr. Wanny Oentoro. Ms. Princess Erica Gallemit, MCC's 7th President, then gave the welcoming remarks. The activity proceeded with an investiture ceremony for the new executive members.
Current MCC members along with the 5th generation of MCC members were also able to get to know each other and bond through a series of icebreaker activities.
Around 30 MCC members participated on site at the Charinyarasami Hall of MUIC's Aditayathorn Building and 11 MCC members participated online.
Congratulations to the club's newly appointed executive committee:
1. Ms. Intira Setavoraphan, President of MCC2022
2. Mr. Sihapanha Moun, Vice President of MCC2022
3. Ms. Jirata Sanitwongchai, Secretary
4. Ms. Aileen Liu, Head of Operations
5. Ms. Narinya Yingcharoenthana, Co-Head of Marketing and Public Relations
6. Ms. Sophie Moore, Co-Head of Marketing and Public Relations
7. Mr. Piyush Saraf, Head of Development
About MUIC Case Club
A college-level consultancy-based club which aims to make successful stories through competing and organizing case competitions.
About Alpha Day
A meet-and-greet session with various activities which aims for MCC members to get to know each other better.
For more information, please visit:
MUIC Case Club's socials:
Facebook: www.facebook.com/muic.caseclub
Instagram: www.instagram.com/muiccaseclub
LinkedIn: www.linkedin.com/company/muic-case-club/
Email: muic.caseclub@gmail.com