MUIC's IRGA Hosts EU Ambassador's Lecture
March 16, 2023
2023-03-20 7:45
MUIC's IRGA Hosts EU Ambassador's Lecture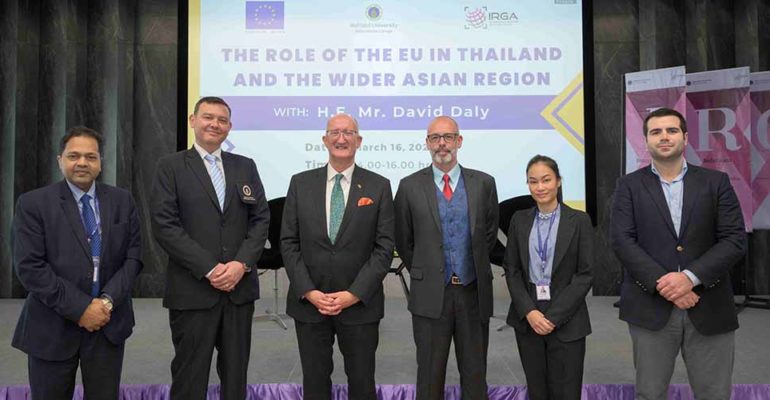 MUIC's IRGA Hosts EU Ambassador's Lecture
The International Relations and Global Affairs (IRGA) major program of Mahidol University International College (MUIC) hosted His Excellency David Daly, Ambassador of the European Union to Thailand, for a guest lecture on "The Role of the EU in Thailand and the Wider Asian Region" on March 16, 2023 at Charinyarasami Hall, Aditayathorn Building, MUIC.
Ambassador Daly noted the contemporary challenges to Asia and the world at large concerning the effects of the war in Ukraine. Ambassador Daly highlighted the EU rapid policy adaptations with regard to energy, climate change, migration and maritime security. The ambassador pointed towards the EU's foreign policy principles of human rights, democracy and rule of law as guiding interactions with Asian and other partners. Of importance in the conversation was the recently concluded European Union/Thailand PCA. Importantly, the Ambassador emphasized that these principled interactions with partners was one of complexity and reciprocity and not a one-way discussion.
Student and faculty participants were able to pose a number of questions to Ambassador Daly on issues of maritime security, multilateral diplomacy, EU-China relations and EU-Thai relations. The event was well attended with students from many majors in attendance, numbering over 90 in total.
The IRGA major program will be hosting the EU ambassador and other European Ambassadors in the coming term for more engaging panel discussions on security and the conflict in Ukraine.