News Never Stops Until the World Ends
March 16, 2023
2023-03-17 3:33
News Never Stops Until the World Ends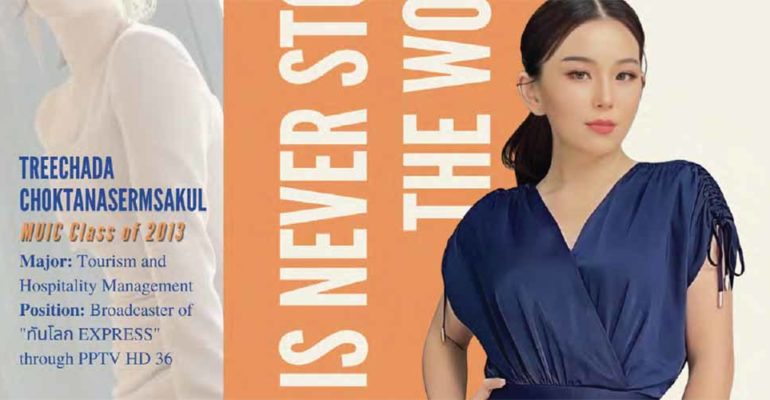 News Never Stops Until the World Ends
Please introduce yourself. What do you do?
Hello everyone! My name is Numnim Treechada Choktanasermsakul. I graduated from MUIC with a major in Tourism and Hospitality Management and a minor in Japanese. After graduating, I worked at Marriott Hotel as an international guest service agent for about one year. I knew very well that I'm good in public speaking especially news reporting, and to reach my dream of becoming a news anchor, I told myself that I have to follow the right path. Fortunately, at that time, there was an ongoing shift from analog TV to digital TV resulting in many channels looking for a news anchor. I was very new in this field, but I was never afraid to apply at PPTV HD 36. I have been working there as a news anchor for the past 9 years now.
How did you get a job at Bangkok Media & Broadcasting?
When I applied at the PPTV Talent Search Campaign, they were looking for a person who could be developed as a young blood news anchor or TV host. After I was chosen, I became a host of the International Entertainment News TV Program for about two years. At that time, I told the International News team at PPTV that I was very interested in the area of news reporting. Soon after, I was transferred and was assigned to be a Thai local news and international news host. That has been my job up to this day.
Why are you interested in the field of broadcasting and what made you choose to be a broadcaster?
I am just an ordinary girl who grew up in Kanchanaburi province, a rural area, but I still remember how much I loved being the class representative and I would always speak in front of my classmates during our English class. I became so interested in becoming a broadcaster when I was about 10 years old. I enjoyed reading newspapers so much. Whenever I get home from school, I would take the daily newspaper from my parents and pretended to be a news anchor in front of the mirror. When I moved to Bangkok to study, I was chosen to be responsible for every speaking task in school. I never declined any request for me to speak or present in public.
I chose to be a news anchor because I want to inform people about the events happening in the world and how those events may impact them. Also, news makes everyone everywhere feel connected and stay engaged. Most of all, being a news anchor means I have to follow news ethics, one of which is presenting only factual news. It also means I have to maintain my credibility so that I can be trusted by the audience.
What is the most challenging situation you have faced in your work?
I think my daily work is challenging because newsworthy events happen all the time and do not stop. However, the most challenging situation I have faced would be establishing how truthful the news articles are, especially those from social media platforms.
News comes so fast especially in social media platforms, however, most of them are dubious, which means that as a news anchor, I have to work harder with my limited time to search for the original sources and verify that the news is indeed true before I report it.
What skills have you learned in college that you find useful in your career?
When we know what we love, the passion will follow. This works for me in real life. When I present myself as a valuable asset, it means I have to practice really hard so that my public performance skills are really good especially when I'm on TV or social media platforms.
Do you think it is necessary to work in the field that we study?
I used to think it is necessary to work in the career field that I had studied. That is, until I tried many things that I hadn't known before and some things I could do and be good at. If I fail, I consider it as a valuable learning experience and that it's an opportunity for me to grow up. But if I succeed, I keep going on and do better. For me, it is never wrong to try to do anything to find out what we love to do or what we are good at.
What are the ways to help you get more comfortable working in front of the camera?
My childhood trick was to practice speaking in front of the mirror as much as I can. When standing in front of the audience, make sure that you listen to every word that comes out from your mouth. You must focus on your speaking and concentrate on your audience.
How did MUIC shape your personality or mindset working as newscaster?
MUIC made me more confident in public speaking as I had to present my assignments so often. Also, from what I learned in tourism and hospitality, we should give the best service to our customers, so that requires me to be a professional communicator to my audience.
Any advice for MUIC students who are still considering which career path to follow?
Keep trying and exploring new things without hesitation because you will never know what you are best at. Keep your mind open to learn from new experiences in each field that you will try because these will be useful in making you a multi-skills person. Lastly, do your best and prepare for the worst. A person who can survive in a difficult situation is a person who has many contingency plans.
"Do your best and prepare for the worst."
Ms. Treechada Choktanasermsakul
MUIC Class of 2013
Major: Tourism and Hospitality Management
Position: Broadcaster of "ทันโลก EXPRESS" through PPTV HD 36
Below is a PDF file to view.
untold_story_chapter_ten