MUIC's Science Division to Add I-Design Next Academic Year, Giving Students More Options
March 10, 2020
2020-03-10 9:21
MUIC's Science Division to Add I-Design Next Academic Year, Giving Students More Options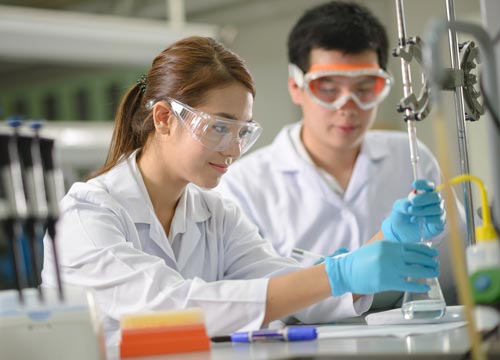 MUIC's Science Division to Add I-Design Next Academic Year, Giving Students More Options
Mahidol University International College's (MUIC) Science Division has embraced the modern iDesign and general education baskets.
"While the study of science like biology, math, and physics are centered upon humans understanding ourselves and our surroundings, it is the study of the arts like communication, design and literature that allow us to understand one another," said MUIC Dean Chulathida Chomchai, MD and Associate Professor of Pediatrics.
The Science Division is the largest division at the college that will include the iDesign into its revision of its seven majors.
The iDesign gives back the reduced general education credits as 20 credits in the students' major electives.
"There is a list of things to do in it," said Dr. Ruchi Agarwal, Assistant Dean for Educational Affairs. "Students can take a minor, pursue a certificate or take five more classes in their major," she said.
"The new curriculum will make study abroad more accessible to all MUIC students," said Dr. Alex Nanni, Associate Dean for International Affairs.
MUIC will change its system so students can take classes on exchange that are not offered at MUIC and still receive credit.
"They'll have more freedom to take classes that interest them, be able to choose from a wider range of destinations, and will still be able to graduate on time," said Dr. Nanni.
Students can also take graduate courses at another institution and receive credit for them at MUIC at the same time.
"They can be classes at the master level. Students can receive credit and then study their master's at the same institution," said Dr. Agarwal.
Throughout the summer of 2019, Dean Chomchai and her academic team brainstormed with faculty and chairs from every division to develop an innovative liberal arts concept, unique to MUIC.
The traditional groupings of humanities, science, social science and physical education are being replaced by five baskets: life appreciation, global citizenship, critical thinking, leadership and digital literacy.
Starting in September 2020, MUIC will require incoming students to take one 4-hour class from each basket.
"With the new baskets, students will have more choices," said Dr. Agarwal. "They aren't confined to a particular division or GE. It is up to their own interest."
As of Academic Year 2019-2020, each division has a different general education requirement.
"It will help students if they change majors," she said. "Now, they can transfer all of their credits."
All MUIC divisions will revise their curriculum to include the general education baskets.
To speed up graduation, MUIC's Office of Academic Affairs has also requested program directors to trim total requirements to between 160 and 170 credit hours.
An example is the computer science program. Current students need to complete 176 credit hours, but next academic year incoming freshmen can graduate with only 164 credits.
MUIC is one of the few Asian programs in the region offering an American-style liberal arts education.
MUIC alumni understood well the value of an interdisciplinary education when competing for employment against those only focused on one area.
The complication has always been explaining to impatient first-year students why they need to take classes in arts or philosophy before they take their major subjects.
The new basket approach helps with this because students can better understand the value of the knowledge and skills they will learn.
By Dr. Brian J. Phillips
Program Director of Natural Science (General Education)
Science Division