MUIC's Volleyball Team Places 2nd in MU League
November 17, 2022
2022-11-17 9:41
MUIC's Volleyball Team Places 2nd in MU League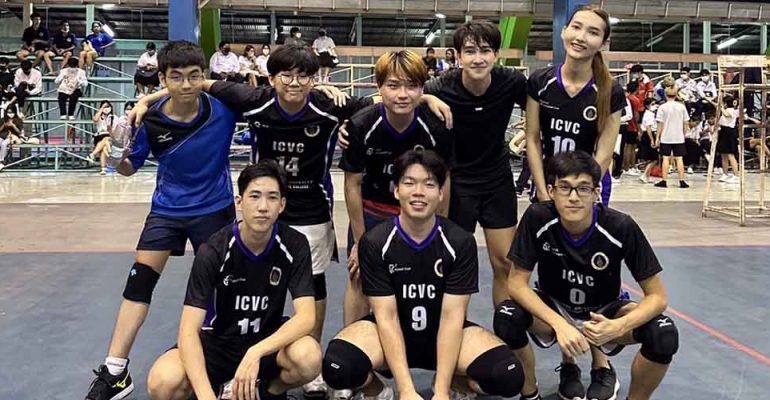 MUIC's Volleyball Team Places 2nd in MU League
Volleyball has been an integral part of the student experience in Mahidol University International College (MUIC). Over the past few weeks, MUIC students were able to participate in the Mahidol University Volleyball League organized by Mahidol University Student Affairs. The competition allowed only concurrent students within Mahidol University to represent either their own faculty or other faculties.
Through the help of MUIC Volleyball Club, three different teams were formed to compete including: MUIC 1 (Boys), MUIC 2 (Boys), and MUIC (Girls). Of the 3 teams, the MUIC (Girls) team was able to place 2nd overall in the competition, winning a cash prize of 1,500 Baht.
MUIC College 1 (Boys) team and MUIC (Girls) team were able to advance to the quarterfinals, with the latter defeating the team from the Faculty of Information and Communication Technology to advance into the next stage.
Moving forward into the semi-finals, the MUIC (Girls) team was able to get the best out of the team from Faculty of Medicine Siriraj Hospital in a breathtaking series, allowing them to move on to the finals against the team from the Faculty of Engineering.
The MUIC (Girls) team eventually bowed to the Faculty of Engineering team, settling for 1st Runner-up (i.e., 2nd Place) in the competition.
The Volleyball Club said it demonstrated its greatest potential having placed one of its teams among the Top 3 and another in the Top 8.
The president of MUIC Volleyball Club said, "I would like to thank all of our team members for their effort, and hope that we would be able to achieve much more in the next year's season."
(2nd Place in MU Volleyball League – Girls team)
1. Kanyarat Pornthanasawas     Student ID: 6280193     Major: ICCD Year: Senior                         
2. Thanaporn Jantarangsi       Student ID: 6280152    Major: ICMC Year: Senior                         
3. Hou Leng Kwok      Student ID: 6280626        Major: ICMC Year: Senior                         
4. Laksika Niramitsrichai     Student ID: 6280623   Major: ICCD Year: Senior               
5. Jessica Okorie      Student ID: 6280844     Major: ICIB. Year: Senior                         
6. Nattaya Wattanapateep         Student ID: 6381036    Major: ICMK Year: Junior         
7. Rasita Tatvichai         Student ID: 6480084     Major: ICMF Year: Sophomore                          
8. Nitcharee Karunworawong     Student ID: 6280180     Major: ICHI. Year: Senior               
9. Michaela Tuason     Student ID: 6280228      Major: ICHI. Year: Senior               
10. Ratima Tangsermkij      Student ID: 6280832    Major: ICHI Year: Senior     
11. Thanatchaporn Imraksa       Student ID: 6381419    Major: ICIB Year: Junior                          
Team MUIC Boys 1:
6480947 Talan Rungroadsataporn
6480756 Minn Swan Pai
6270047 Thitipan Janthurot (Sports Science)
6480283 Tanapat Suengphaisankul
6480933 Phuri Valairucha
6381073 Metasit Vinton
6480004 Franklin Dennis Plakhov
6480055 Ibrahim Dawoodjee
Team MUIC Boys 2:
6280145 Sorrasich Srirattanawong
6280166 Chayutapol Anuchitlertchon
6380203 Kamollapop Tsai
6380439 Puchin Methawisal
6380209 Phiraphat Chariyarattanarat
6380276 Wasawat Laosakul
6381269 Chaiyot Trirattanarasi
6481362 David Roberts
Coaches:
6280747 Athitiya Thaminrach
6281424 Thanakrit Chongjaroenporn