MUIC's Winners in "From Gen Z to be CEO" Competition
September 19, 2023
2023-09-19 10:05
MUIC's Winners in "From Gen Z to be CEO" Competition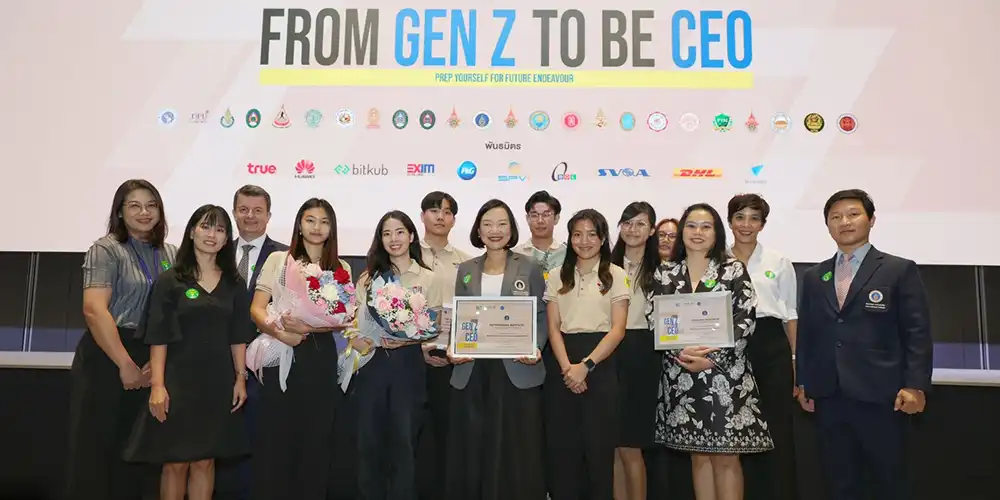 MUIC's Winners in "From Gen Z to be CEO" Competition
A group of students, executives, faculty members and staff from Mahidol University International College (MUIC) garnered an impressive collection of awards from the "From Gen Z to be CEO" competition organized by the New Economy Academy (NEA) of the Department of International Trade Promotion (DITP).

Of the 23,800 contestants this year—of whom 30 MUIC students were included in the Top 100—an International Business senior student, Mr. Warit Trikasemsak, was selected as "Gen Z Ambassador 2023."

MUIC was also chosen as "Outstanding Institution 2023" awardee. The following were selected as recipients of the "Outstanding Person 2023" award:
• Assoc. Prof. Dr. Nuntana Udomkit, Lecturer of the BA Division
• Assoc. Prof. Dr. Claus Dieter Schreier, Assistant Dean for Research and Academic Services, and Lecturer of the BA Division
• Asst. Prof. Dr. Ploy Sud-On, Lecturer of the BA Division
• Ms. Thipsukhon Chuensodsai, Educator of BA Division
Ms. Wimonsiri Hemtanon, Associate Dean for Student Affairs (who represented the MUIC Dean), was also present during the closing ceremony, held on September 19, 2023 at True Digital Park in Bangkok.