Online Cooking Session for MUIC's Partner Universities
February 18, 2022
2022-06-22 8:47
Online Cooking Session for MUIC's Partner Universities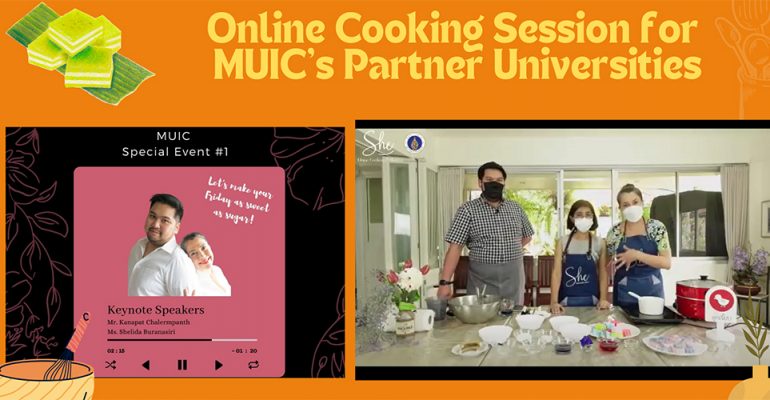 Online Cooking Session for MUIC's Partner Universities
Mahidol University International College (MUIC) held an online cooking session called "Cooking with Love" exclusively for its partner-universities on February 11, 2022.
Featuring "a romantic home-cooked meal for the Valentine's season," the session had as resource speakers Mr. Kanapat Chalermpanth, an MUIC alumnus (Social Science, Class of 2012) along with his mother, Ms. Shelida Buranasiri. They demonstrated how to make a Thai dessert called "khanom chan" (Pandan layer cake) and "woon krati" (Thai coconut jelly).
Organized by the Project Development Unit (PDU), the session was attended by 17 participants including coordinators and students from different universities, namely, Ngee Ann Polytechnic and Singapore University of Technology and Design from Singapore; Aoyama Gakuin University, Fukuoka Women's University and International Christian University from Japan; Technological and Higher Education Institute of Hong Kong from Hong Kong; Kyung Hee University from South Korea, and a former student from Switzerland.
There was also a tour of a "look jeab" dessert factory and cafe which makes lots of Thai desserts that are sold to all travelers in Phetchaburi province. It was organized for the benefit of MUIC Short-term program participants.