Workshop 8: Q&A Session On Academic Policy For COVID-19 (3rd Trimester, 2019-2020)
April 1, 2020
2020-04-01 7:40
Workshop 8: Q&A Session On Academic Policy For COVID-19 (3rd Trimester, 2019-2020)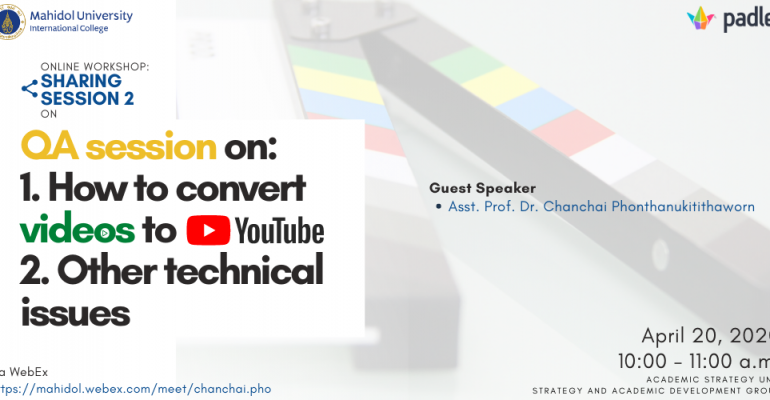 Workshop 8: Q&A Session On Academic Policy For COVID-19 (3rd Trimester, 2019-2020)
Date & Time: Wednesday, 1 April 2020 from 1.00 – 2.00 pm
Conductors: Dr. Chompunuch Pongjit, Associate Dean for Educational Affairs
The aim of this special session was to help lecturers understand the new Academic Policy during COVID-19 pandemic and adapt to working remotely in accordance with ''Mahidol University's Policy Announcement on Suspension of All Classroom Teaching and Learning and the Work from Home Guideline for University Staff''.
It was concluded that all teaching and learning activities need be conducted online 100% to minimize the disruptions that may affect students who're going to graduate in 3rd trimester. 3 different scenarios (pre-term, during the term, and at the end of the term) were laid out and explained to guide the lecturers so that they can act accordingly.
In terms of navigating online teaching and learning, MUIC recommended two main online platforms such as Moodle and Google Classroom, to manage online learning activities. MU WebEx, Google Hangout or Zoom were recommended for the live sessions with the assistance from Ed Tech section. Other platforms may be used but not encouraged in order to reduce student's stress level in navigating different platforms for different classes. Besides, online courses offerings were limited with priority given to core and required courses, pre-requisite classes like EC and Math courses in GE, overlapping courses in the current GE curriculum and new GE baskets. The materials, including course syllabus, video contents (video recorded of weekly live class streaming), readings, assignments, quizzes, discussion forums and other related course works, were e to be posted on the platform as well.
Considering the safety of students, staff and lecturers, the Lab courses, field-trips, and on-site (at the company) internships were asked to be postponed until further notice. The lecturers may grant 'I' grade or implement alternative substitutes for example, allow work from home (WFH) internships, and offer extra course works/activities that satisfy the course's CLOs and PLOs.
Class attendance policy remained intact in order to encourage student's involvement. This includes name calling and asking students to be in video mode for every attendance check as well as random attendance check through cold calling to answer the discussion questions, pop quizzes conducted during live session.
For courses with midterm examination, it can either be 1. a take home examination with submission via Turnitin or Google Classroom for plagiarism check. It is highly recommended especially for courses with more than one section to do a time-restricted online midterm examination proctored by the course lecturer. Both have same course evaluation with regards to MU policy and same grade submission process on SKY.