Preparing University for the Next Normal Era: "Google Workspace for Education Plugs"
July 17, 2023
2023-07-17 2:54
Preparing University for the Next Normal Era: "Google Workspace for Education Plugs"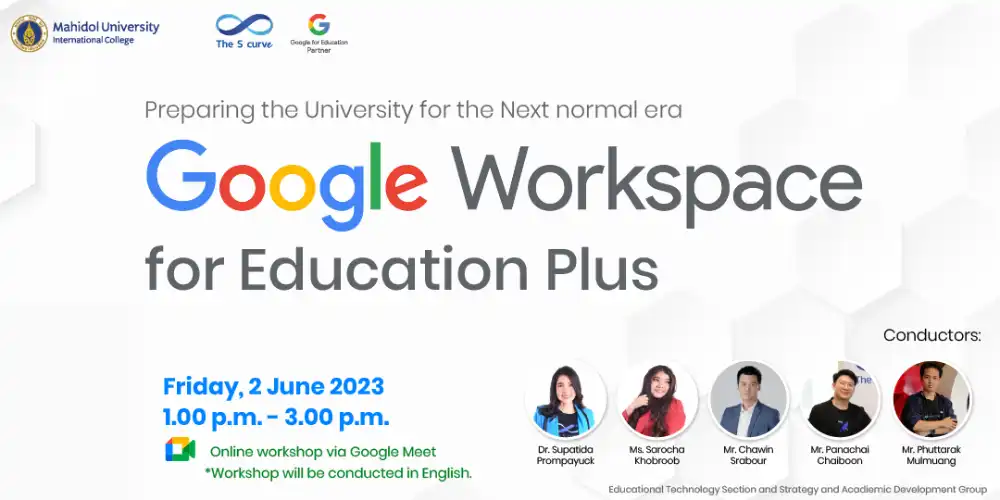 Preparing University for the Next Normal Era: "Google Workspace for Education Plugs"
Title: Preparing University for the Next Normal Era: "Google Workspace for Education Plus"
Date and Time: Friday, June 2, 2023, from 1:00 to 3:00 p.m.
Venue: Online Workshop via Google Meet
Conductor: Trainer Team from S-Curve Co., Ltd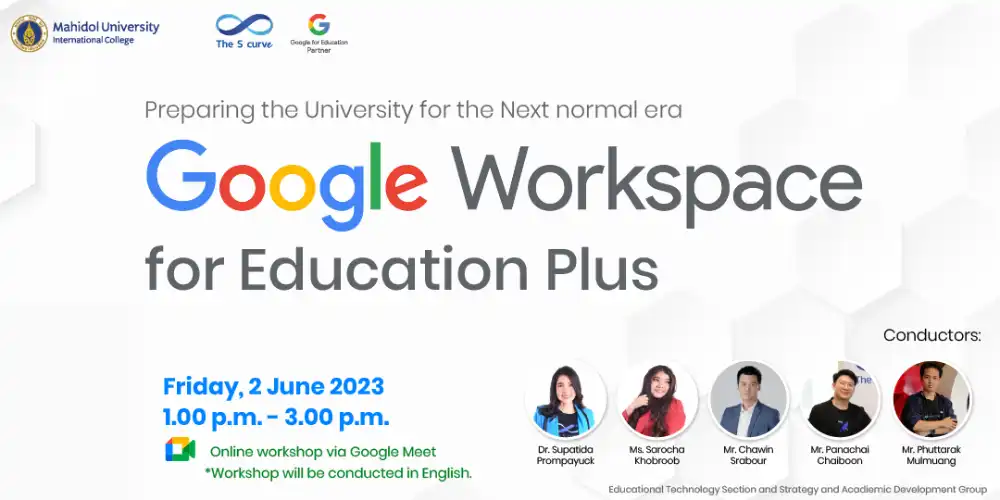 The Strategy and Academic Development Section under the OAA and EdTech held an online workshop entitled 'Preparing the University for the Next Normal Era: "Google Workspace for Education Plus."'. This workshop aimed at introducing new available features in Google Workspace for Education Plus to enhance work efficiency and build a culture of innovation in organizations and classrooms through digital and educational transformation.
Google Workspace for Education Plus, formerly known as G Suite for Education, is a subscription plan that offers cutting-edge security, improved features, and tools for teaching and learning. These tools and features not only cater to individual interests but also excel at supporting team collaboration. One such tool is Jamboard, a digital whiteboard that enables users to collaborate and co-author in real-time in a shared space. With Jamboard, one can write using a mouse, stylus, or finger, as well as add digital sticky notes while brainstorming. It offers various elements like text, pictures, lines, shapes, and even a laser pointer tool, which temporarily highlights items on the board to emphasize your content. Additionally, it supports up to 16 touchpoints or interactions simultaneously in a single jam.
The next tool is Google Chat, a quick messaging software that seamlessly integrates Google products within the Google Workspace Ecosystem. With Chat, teams have a shared space to collaborate through text, create chat rooms for different topics, share spreadsheets and documents from Google Drive, deliver presentations, and stay organized, ultimately boosting productivity and efficiency. The integration with Google Calendar allows Chat users to have a better understanding of others' availability, making it easier to decide when to reach out or collaborate. Moreover, when sending a new message in Chat, one can see team members' current working location and local time zone, which is very useful for planning events when colleagues are working remotely across different time zones. Additionally, the encryption of all conversations and data in Chat contributes significantly to the peace of mind of its users.
Google Workspace is designed to unite Google's entire ecosystem of productivity and workflow apps under a single, unified banner. All of these apps can be accessed through the grid icon, commonly referred to as the 'Waffle' due to its grid-like appearance. The Waffle icon is typically located in the upper-right corner of Google web pages or within the app launcher of Google Workspace products. By utilizing the Waffle icon, users can easily navigate between Google services and access specific tools such as Gmail, Google Drive, Google Calendar, Google Docs, Google Chat, Google Photos, etc. This unified experience aims to streamline processes and minimize the need to switch between multiple tabs and applications.
One of Google's greatest strengths lies in its seamless integration among its apps. For example, users can easily add meeting notes to events directly from Google Docs by simply typing "@" in the document they want to attach to the event. In the popup menu, they can select "Meeting notes," search for the relevant event, and choose it. If the user is the event organizer, a popup will prompt them to share and attach the document to the event. However, if the user is not the event organizer, the popup will instead prompt them to share the document, but it will not be directly attached to the event itself.
For organizations grappling with the challenges of digitizing their operations and a shortage of technology expertise, Google offers a forward-looking solution through two types of platforms: AppSheet, the no-code development platform, and App Script, the low-code development platform. The underlying concept of these platforms stems from the belief that technology should be accessible and enhance people's lives rather than hinder their progress. The no-code development platform enables individuals with no prior programming knowledge to leverage a graphic User Interface (GUI). Users can click, move, or paste pre-designed buttons, templates, or commands. This intuitive approach empowers users to create applications without the need for traditional coding. In contrast, the low-code development platform empowers developers to design websites more efficiently and rapidly. It incorporates principles such as model-driven design, automatic code generation, and visual programming. These features enable developers to expedite the website development process, saving time and effort.
Another tool is Voice Typing in Google Docs, which utilizes speech-to-text technology to accurately convert spoken words into text in real-time and supports over 125 languages. It is extremely valuable for both individuals and organizations, as it saves time and enables users to dictate various pieces of content directly into Google Docs. Whether it's meeting notes, math word problems, spelling lists, or any other text, Voice Typing handles the conversion while also allowing for formatting commands such as bold, italics, and the insertion of links. Users can punctuate their text by using commands for period, comma, exclamation point, new line, and question mark. It is particularly beneficial for struggling writers, aiding them in improving their spelling and composition skills. It also offers significant assistance to users who need to take notes in a foreign language, facilitating their ability to capture and transcribe information accurately.
A newly added feature in Google is Approvals. It enables document approval workflows within organizations. Users can initiate approval requests by sending them to other individuals within the organization via the File menu. The recipients of these requests have the ability to approve, reject, edit, and comment on the document in question. If any changes are made to the document at a later stage, all approvers will receive email notifications about the updates. Alternatively, there is an option to set the document to be locked and not editable after it has been approved. Google highlights that this feature is particularly useful for verifying important documents, such as contracts or legal agreements, which require official approval from designated individuals within the organization.
The latest significant tool in the education community is Originality Reports, which now also work for Google Slides. It enables students and teachers to compare their work against web pages and books available on the internet, ensuring academic integrity when submitting or receiving assignments within Google Classroom. Previously, teachers had to manually select and search specific sentences from student work to check for plagiarism using traditional search engines. With the Originality Reports, the entire paper is scanned, and any instances of content matching existing sources are promptly identified.
The Google Workspace subscription offered different plans for different users. All Google plans ultimately integrate technology to help people work better, faster, easier, and more accurately while cooperating with others, creating a better learning community and a lifelong learning society.