Alumni & Student Achievements
September 5, 2021
2022-06-01 6:45
Alumni & Student Achievements
Alumni & Student Achievements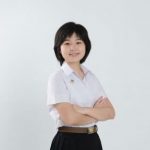 Ms. Wanutcha Lorpaiboon
Winner, Best Poster Presentation Award / the Best Question Award in the Asian Science Camp (ASC) at Manado, North Sulawesi, Indonesia.
Ms. Wanutcha "Soon" Lorpaiboon was the lone representative from MUIC, joining several other students from different universities in Thailand. Ms. Wanutcha received certificates and a figurine of a tarsier as a token gift. She said that her group (composed of five students from different countries) won the Best Poster Presentation Award based on the topic "Cleaning Up the Ocean." On the other hand, during the question-and-answer forum in a discussion panel featuring seven scientific experts from around the world, Ms. Wanutcha's question about DNA earned her the Best Question Award. ASC's organizers describe it as "an annual forum which aims to enlighten those science-talented youths through discussion and dialogue with top scholars in the world and to promote the international friendship and cooperation among the best young students of the next generation in Asia."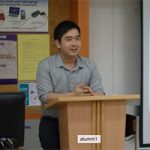 Mr. Punn Kuhataparuks
Medical School Scholar
Mr. Punn Kuhataparuks, a Biomedical Science alumnus (Class of 2015), was awarded the Dean's Scholarship plus a bursary for a total amount of SGD 40,000 from Duke-NUS School of Medicine, Singapore. He had just finished his basic science studies at Duke-NUS School of Medicine and visited MUIC on July 5, 2017 to share his experience about his medical studies and gave advice to the Science students who attended the "2nd Science Alumni In-focus" event. Several faculty members were also present.
Mr. Apivich Hemachandra
National Winner, FameLab Thailand Competition 2018
Mr. Apivich Hemachandra, a student majoring in Physics at Mahidol University International College (MUIC), won FameLab Thailand Competition 2018, a science communication competition wherein the contestants have to explain clearly and effectively a scientific concept to a general audience in just 3 minutes. Mr. Apivich's topic was "How We Send Credit Card Details Over The Internet". Organized by the British Council of Thailand, the national competition was held at the Bangkok Art & Culture Centre (BACC) on April 28, 2018. As the national winner, Mr. Apivich will compete in June 2018 in the International FameLab Competition at Cheltenham Science Festival, United Kingdom accompanied by Ms. Cherprang Areekul, a Chemistry student from MUIC and also team captain of popular idol group BNK48. This international contest is indeed a rare opportunity for science students to demonstrate their knowledge and skills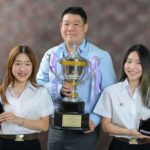 Ms. Thanatcha Vichienkalayarat and Ms. Kamolporn Ittisurasing
Grand Prize Winners, Food Innopolis Innovation Contest
Two Food Science and Technology students from Mahidol University International College (MUIC) won the grand prize in the recently held Food Innopolis Innovation Contest. Ms. Thanatcha Vichienkalayarat and Ms. Kamolporn Ittisurasing, comprising the lone team from MUIC, bested 73 other teams from other universities all over Thailand with their entry called "Original Sensation," a rice pop and Thai chicken green curry spread they dubbed as "Dip the Dish." They also won two other prizes, "Best Presentation Award" and 1st Prize in "Original Sensation Theme," earning them a total cash prize of 110,000 Baht. Coached by their professors at the Science Division with Dr. Chayanant Hongfa as their adviser, the duo—who had spent at least a month preparing their winning entry—were proclaimed grand prize winners on February 9, 2018 at Parc Paragon in Bangkok.