Reduce, Reuse and Recycle Expressed in Artworks
December 23, 2021
2021-12-23 13:50
Reduce, Reuse and Recycle Expressed in Artworks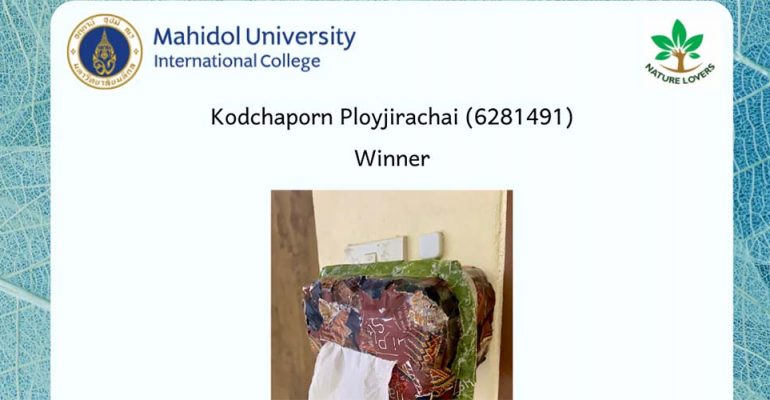 Reduce, Reuse and Recycle Expressed in Artworks
The Nature Lovers Club held an activity called "3Rs Artwork – Reduce, Reuse and Recycle!" from November 15, 2021 to November 30, 2021.
The 23 participants produced art works that represented their interpretation of the concept of "reduce, reuse and recycle" along with a description for each entry.
This project, which complemented the earlier "Our Waste, Our Responsibility!" activity, earned praise from students, according to club officials. "This can be clearly seen from the feedback we received from some participants when they say it was 'fun and perfect' and even provided us with great ideas for further activity. Every artwork was different from each other and showed the different ways in which we can spread the value of waste segregation. All entries were very unique and every participant demonstrated strong dedication," the club said.
Kodchaporn Ployjirachai (majoring in International Business), won 1st Place and received 1000 Baht cash prize. Thirada Boonyamongkonrat (Marketing) won 2nd Place and received 700 Baht cash prize. Phimnaphang Leenasirimakul (Marketing) was adjudged 3rd Place and received 500 Baht cash prize. Thanawan Pakrangsisakul (Communication Design) was awarded the Popular Vote and received 300 Baht cash prize. Club officials said this is their last activity for Term 1 but promised more projects in the coming term.