Spooktacular Halloween Party at MUIC
November 20, 2023
2023-11-20 2:57
Spooktacular Halloween Party at MUIC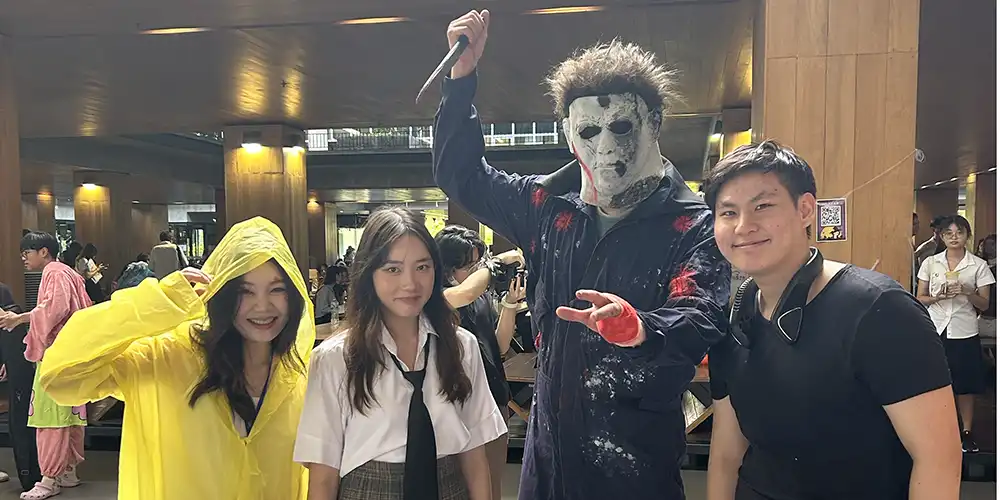 Spooktacular Halloween Party at MUIC
During this spooky season of the year, the Student Association (also known as SMO in Thai) of Mahidol University International College (MUIC) hatched a nefarious plan to host "Spooktacular Halloween" for MUIC students to dress up and enjoy the spirit of Halloween.
The event was held on October 31, 2023 by the Student Association in collaboration with many other clubs and the student body. Numerous students dressed up in costumes which helped promote the spirit of Halloween and the joy of the festival.
The activity was held in two floors. The ground floor of Aditayathorn Building served as the site of selling booths and performances from MUIC clubs including Dance Club, Film Club and Music Club. As for food and beverages, there was a total of 18 selling booths which were put up by MUIC students. Furthermore, four student clubs collaborated with the organizers in providing club activities at "Dice Hall" on the second floor, while on the opposite side there was a Halloween movie screening in conjunction with Film Club. Lastly, there was a murder mystery activity at Room A248 by CMM Caoniaomamuang.
The SMO expressed its thanks to everyone for their participation, especially clubs that took their time to perform a spectacular show at "Spooktacular Halloween." The SMO added that it is looking forward to seeing everyone again in its upcoming activity called "Light and Loy," a Loy Krathong festival at MUIC.