The First of Many Events as NY Times Visual Editor Opens FAA Screening Room
January 25, 2023
2023-02-02 3:17
The First of Many Events as NY Times Visual Editor Opens FAA Screening Room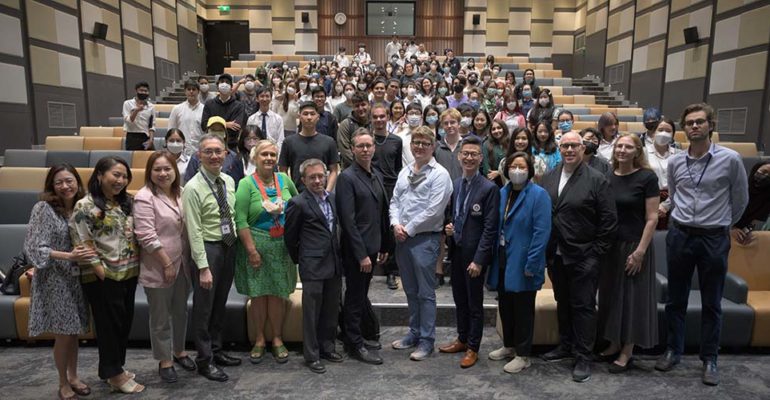 The First of Many Events as NY Times Visual Editor Opens FAA Screening Room
By Dr. Bryan Edward Ott
FAA's new 250+ seat Screening Room celebrated its grand opening on January 25,2023 by having as guest speaker the NY Times Visual Editor, Mr. Clinton Cargill, who shared his unique behind-the-scenes knowledge of 20+ years of digital and print-media experience.
The near-capacity buzz of student energy electrified the vast space and signaled in a new era of FAA Division Events. What could be better than having the NY Times as our lead-in to a future of exciting workshops and seminars held in the new FAA Screening Room?
Mr. Clinton Cargill, is a photo editor overseeing live coverage and digital presentation at The New York Times. Previously, he was an assigning editor for visual, digital and immersive storytelling on the Times national desk. He has also served as Visuals Director at Vanity Fair, and Director of Photography for Bloomberg Businessweek, Bloomberg Markets, and Bloomberg Pursuits, where he earned Businessweek's first-ever National Magazine Award nomination in a photo category in 2015, and AdWeek's cover of the year in 2017. He began his career at The New York Times Magazine, where he worked from 2004-2014, first as a news assistant, and then as a photo editor. His work has been recognized by American Photography, Pictures of the Year International, Photo District News, The Society of Publication Designers and Creative Review. He is a co-Chair of the board of directors at the Center of Photography at Woodstock, and he previously served as president of the Society of Publication Designers.
This event was organized and moderated by Dr. Bryan Edward Ott, Chair of the Fine and Applied Arts Division. The opening remarks were delivered on behalf of MUIC by Assoc. Prof. Dr. Chanchai Phonthanukitithaworn, Associate Dean for Corporate Communication and information Technology.
With plans to continue to organize and develop future workshops and events, FAA invites all MUIC academic divisions and administrative sections to share in the experience of our new screening space, and to learn, along with us, about a variety of media, design and cross-disciplinary areas of interest.  Hope to see you at future FAA events!
About the Author
Dr. Bryan Edward Ott is Chair of the Fine and Applied Arts Division. His short films won numerous international film awards.