THM Club's "Into the Botanical Land"
February 17, 2023
2023-03-13 7:52
THM Club's "Into the Botanical Land"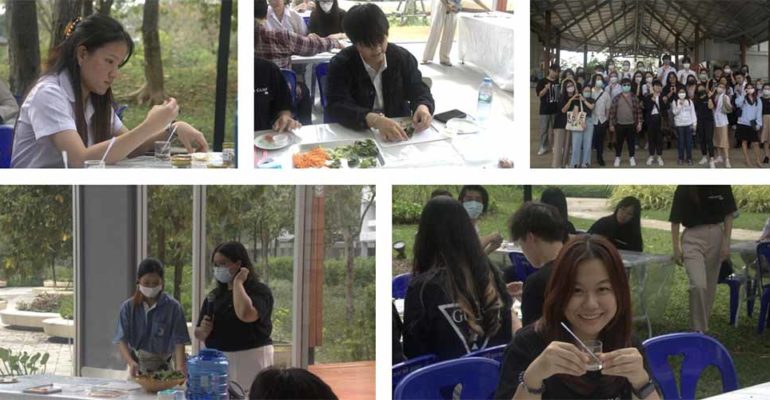 THM Club's "Into the Botanical Land"
The THM Club of Mahidol University International College (MUIC) organized a tour of Sireerukachat Botanical Natural Learning Park inside the Mahidol University Salaya campus on February 17, 2023 which included two workshops.
There were 17 students who joined the "Into the Botanical Land" activity. Aside from exploring the park, they were also able to make healthy delectable salad rolls and create a Thai authentic inhalant.
The participants enjoyed the educational tour of the Sireerukachat Botanical Natural Learning Park, getting to know its wide collection of Thai herbal plants. The majority of the herbs are mostly digestive system-related which can be useful to the participants.
After the sightseeing, they were escorted to the salad roll workshop station where they learned how to make healthy salad rolls using organic vegetables. Next stop was the inhalant workshop where the participants learned about the 12 herbs provided by Suan Sireerukachat Park staff and other components in making an inhalant. Following instructions, the students were able to make their own inhalant using a mixture of each herb.
The THM Club expressed its gratitude to the Suan Sireerukachat Park staff for the informative and productive workshops, noting that the club plans to replicate the activity at a later date.