Unleash Your Multiple Talents!
September 5, 2019
2022-04-25 6:58
Unleash Your Multiple Talents!
Unleash Your Multiple Talents!
As a child, we have been constantly asked by our parents, teachers, and other adults, "What do you want to be when you grow up?" in which, we are expected to respond with just one answer.
As part of growing up, we learn and get exposed to a variety of fields and subjects, with the expectation that we will soon discover our "true calling" during this process. Acquiring a tremendous amount of skills is clearly beneficial, but may also put one in a state of uncertainty. You realize which areas you don't like, but at the same time, you aren't able to specify a single area that you are passionate about. It seems as if there is an intense fervor in everything you do. If this applies to you, then we are in the same boat also known as "Multipotentialite," and here is my story.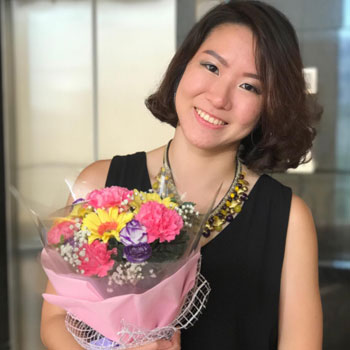 My name is Nannaphat (Prelle) Apipongrattanasuk, a Biomedical Science alumna, MUIC Class of 2015. I've always had a never-ending sense of curiosity and desire to develop multiple talents ever since I could remember. During my primary school years, I took various after-school classes – piano, Chinese, Kumon math, ballet, ice-skating, drawing, and I enjoyed ALL of them. Yes, ALL! I was the kind of student who received an award for being the top student in two subjects – Biology and Music. Doesn't that sound ironic?
I realized that one of my biggest goals in life is to pursue a medical career, either as a doctor or a dentist, which is why I chose to study Biomedical Science. At MUIC, known as a liberal arts college, we were molded into well-rounded individuals through a diverse stream of activities, classes, and clubs. We were equipped with a vast array of skills, i.e. analytical, collaboration, time management, creativity, and the list goes on. As an MUIC student, I have been part of the MUIC Student Association, MUIC Tutors, and many clubs such as Science Society, Art, Volunteer, and Multicultural clubs. Besides this, I also sold cosmetics and dessert online, and worked as a translator and tutor while I was a student here. Taking part in extracurricular activities and working while studying was a challenge, but I worked hard through that and managed to graduate in three years with an honors GPA.
After I graduated from MUIC, I got a job as a 10th grade Biology teacher at an international school, but quit after a year and then worked as a freelancer. Currently, I am a freelance translator and interpreter, nutritional therapist, co-founder of a startup business, and will start Dental school next year. Plus, I have a wide spectrum of hobbies, which ranges from playing the flute, to drawing, to Thai boxing, and to studying a new language.
Having a myriad of passions can be a double-edged sword. You either get praised for being "so talented in everything" or chided for "not being actually good in anything at all." At some point, I had a high sense of self-doubt for being a Multipotentialite that I feel unworthy for not having "a specialization." As I dig through inspirational stories of famous historical figures, I noticed that many of them were Multipotentialites just like me. One example is Leonardo da Vinci. The world knows da Vinci as an artist who painted Mona Lisa. But attached to his well-known title as an artist is a long chain of further specializations that seem unrelated – science, engineering, anatomy, paleontology, optics. Yet, da Vinci and other famous Multipotentialites around the world successfully excelled in all of their passions.
Being a Multipotentialite is NOT a disorder. It is society's obsolete philosophy that has triggered us into assuming that one must be a specialist in order to succeed. But in a rapidly changing world, having one skill alone won't suffice, and thus, we should continue to learn and develop our potential incessantly. Having a multitude of skills won't make you go haywire, if you clearly distinguish between the skills that you will utilize to earn an income, and the skills that you use for leisure. So, unleash your talents, make them flourish, and remember that there are no limits on what you can achieve in life, except the limits that you create in your own mind!
Ms. Nannaphat Apipongrattanasuk (Prelle) – translator, interpreter, nutritional therapist, business owner, dentist apprentice, and your friend on Earth J
My startup business, Experience Language – https://www.facebook.com/ExpLang.Asia/