UQ Ventures Design Thinking Workshop
May 24, 2021
2021-05-24 8:52
UQ Ventures Design Thinking Workshop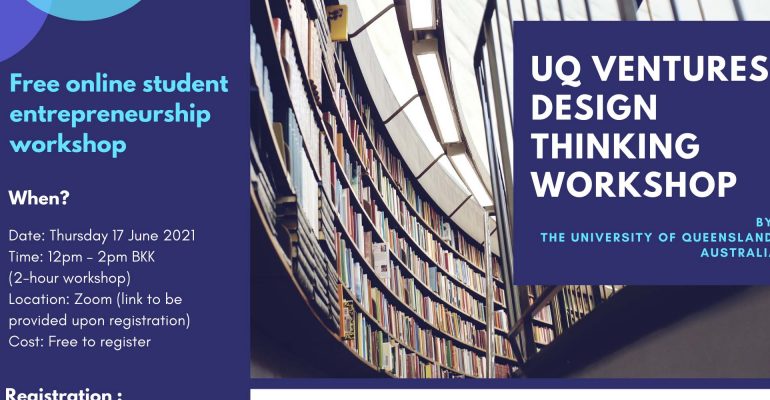 UQ Ventures Design Thinking Workshop
We would like to invite you to an exciting opportunity to take part in a free online student entrepreneurship workshop with our partner university -The University of Queensland, Australia.
By participating in the workshop, you will learn:
· the fundamentals of design thinking and creative problem solving
· how to approach complex problems and methods to solve them
· how to design solutions from a user-centric perspective.
If you are interested in attending the UQ Ventures Design Thinking Workshop, please register by Friday 4 June 2021 through the link below.
https://www.eventbrite.com.au/e/uq-ventures-design-thinking-workshop-tickets-154347596817
Workshop Details
Date: Thursday 17 June 2021
Time: 12pm – 2pm BKK (2-hour workshop)
Location: Zoom (link to be provided upon registration)
Cost: Free to register