Workshop 4: Want To Develop An Effective Script For Your Online Course?
October 25, 2020
2022-03-22 13:33
Workshop 4: Want To Develop An Effective Script For Your Online Course?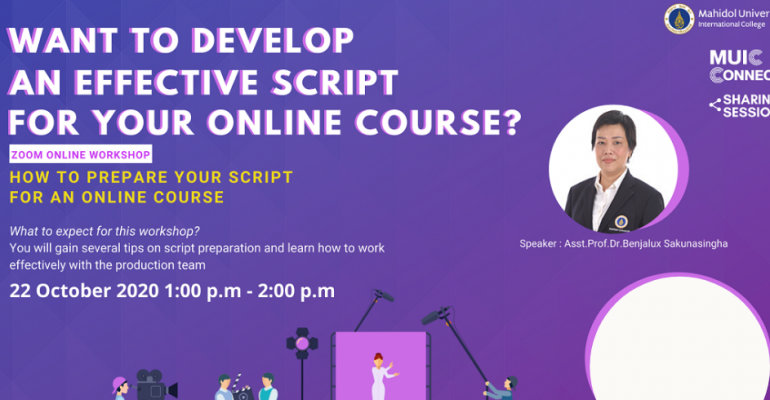 Workshop 4: Want To Develop An Effective Script For Your Online Course?
Title: Want to Develop An Effective Script for Your Online Course?
Date & Time: 22 October 2020 from 1.00 p.m. – 2.00 p.m.
Conductors: Asst.Prof. Dr. Benjalux Sakunasingha
The Strategy and Academic Development Section under the OAA organized its 4th workshop of academic year of 2020-2021 entitled "Want to Develop An Effective Script for Your Online Course?". The aim was to help instructors understand how to develop script for online courses and effective ways of working with the production team.
In this sesssion, Ms. Sakunasingha shared her experience in regards to how production teams work and as a faculty member how we can work with them to make an online course. She also shared 5 useful tips to get ready for the filming day.
Tip 1. Script and content
Having a solid script and content is the first step of creating an online course. As the success of course relies mostly on the content, building a well-prepared script and content can help instructor to systematically carry out the course plan as well as being able to present learner a content in seamless, articulated and understandable manner.
Knowing content is good but at the same time being able to calculate how it will resonate with the target audience, students, further helps in creating a good online course. Knowing the background and age of the learner can help to figure out ways to deliver the content to different audience. Moreover, communicating throughoutly communicate with the production team from the early stage of development is a must which includes discussion and information sharing, finding a common ground of what you and the team expect, and sharing the same viewpoint on other issues like course theme and length. This helps to create a clear picture of the expectations and allows the production team to interpret the given content and deliver it in an artistic, easier-version way for the audience to digest. The content needs to be kept simple and clear in order to increase learner understanding. For the script, it's better to remember it by heart as sometimes you have to say the same lines many times for a short video.
Tip 2. Eye Contact
While text lessons, voice over slides or voice-over-screen hold its own advantages, opting them means that the instuctor misses out the potential connection they could have with the students. As human response to a visual stimulus – that is, eye to eye, video content can increase a much higher rate of engagement and learner's experience. When shooting video, eyes should focus on the camera and avoid too much eye or head movement. The tips are to relax your mind and body, take a deep breath, try to enjoy and do not forget to smile occasionally.
Presenting on camera, for some, it could be the case of practice makes perfect, and for others, it could be stressful, confronting or downright overwhelming. Thus, in order to be confident and competent on camera, mastering presenting skills must be learned, practised, and honed overtime.
Tip 3: Voice and Tone – Body language
Depending on the target, it's important to decide what kind of tone to use to create a connection with the audience. If the course is for public, the tone should be more professional, while in a course designed for young learners the tone could be informal. It varies according to age, the areas covered, the interests and the way learners learn.
As the strength of an online course lies in the emotional involvement of students, using the right tone of voice is very important. Monotone is considered boring, so does reading from a script. It's preferable to use dynamic tone, that is to say, changing in pitch and tone, or speed when addresing important issues. This makes your contents more interesting. Furthermore, communication or explanation can be non-verbal. Body language; such as using hands, walk, and other movement can assist you to give the right message. Avoid crossed arms or hands held behind your back or in the pockets.
Tip 4: Practice
If you're an online course instructor who is just getting started, you can ask your family/friend to be your audience and get their feedback and improve. Practice until you're able to remember the script by heart before the real shooting day. Act confidently while also ensuring you cover and convey everything that needs to be delivered in a video. Talk slowly and cleary, and pause in the right places to allows students time to process and decipher what you said.
Tip 5. Clothing
Prepare to be at the shooting location earlier than schedule to have at least an hour for make-up and dressing-up. If you have to bring your own cloth on the filming day, it is best to keep it simple. Wearing shiny fabrics or cloths with patterns should be carefully chosen as it's way more distracting for audience. Strong or too bright colors including polka dot or stripe cloth should be avoided as it isn't only hard to see on camera, but also can make the learner dizzy. In case the production team provides clothing, try to discuss with them to find the style that matches the theme and, at the same time, represents yourself.