With rapid advances in technology and the economy in the late 20th century and early 21st century, educators, business leaders and government agencies have identified skills, abilities and learning dispositions that would help students attain success in 21st century society.
There are twelve 21st Century Skills and they are grouped into three categories:
The focus is on mental processes required in order to adapt to the current work environment.
Critical thinking
Creativity
Collaboration
Communication
Teaches students how to discern facts, publishing outlets, and the technology behind them. These also help them distinguish trustworthy sources and factual information from the misinformation in the Internet.
Information literacy
Media literacy
Technology literacy
These skills focus on intangible elements of a student's everyday life. These intangibles emphasize both personal and professional qualities.
Flexibility
Leadership
Initiative
Productivity
Social skills
21st Century Skills in MUIC Curriculum
(Interview with Dr. Ruchi Agarwal, Assistant Dean for Educational Affairs)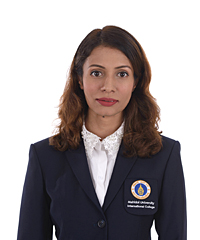 Why is it advantageous for university students to learn 21st Century Skills?

Given that we live in a globalized world that requires an individual to not only have basic skills as was the case in the past, the new requirements of the job market are more towards applied skills. These essential skills include critical thinking, teamwork, creativity among others. For our students to survive in this changing world, there is a need for them to acquire these skills early on in their stay in university. 
How are 21st Century Skills taught to MUIC students?

MUIC has made continuous efforts to instill the 21st Century Skills among students from their freshman year itself. Initially the general education (GE) curriculum required students to take courses in different majors, however, understanding the changing demand of the globalizing world, MUIC initiated a revision of the entire GE curriculum with the combined efforts from members of all programs to design a new GE curriculum based on the 21st Century Skills. The result is a new revised general education curriculum which has the five baskets system based on the 21st Century Skills. These baskets include: Leadership, Critical Thinking, Global Citizenship, Digital Literacy, & Life Appreciation. Each of these baskets include a number of courses that students can choose which teach students the specific skills based on the 21st Century Skills categorization. 
For a list of these general education courses, please see below:
General Education Courses

38 Credits

English Communication

12 / 16 Credits

Note I: Based on their achievement on the essay portion of the MUIC entrance exam, students will be placed into       3 following tracks: 'ERS Track', 'GC Track' and 'Advanced GC Track'. •'ERS Track' – Students who are placed into 'ERS Track' will be required to take ICME 100 (a non-credit course) and complete 16 credits in English Communication: ICGC 101, ICGC 102, ICGC 103 in order, and finally, any 200+ level English courses. •'GC Track' – Students who are placed into 'GC Track' will be required to complete 16 credits in English Communication: ICGC 101, ICGC 102, ICGC 103 in order, and finally, any 200+ level English courses. •'Advanced GC Track' – Students who are placed into 'Advanced GC Track' will be required to complete 12 credits in English Communication: ICGC 111, ICGC 112 in order, and finally, any 200+ level English courses. Note II: Students in 'ERS Track' and 'GC Track' must take ICGC 101, ICGC 102 and ICGC 103 without interruption beginning in their first trimester of enrollment.

GC Track

ICGC101

Academic Writing and Research I

4(4-0-8)

ICGC102

Academic Writing and Research II

4(4-0-8)

ICGC103

Public Speaking

4(4-0-8)

Advanced GC Track

ICGC111

Academic Writing and Research I (Advanced)

4(4-0-8)

ICGC112

Academic Writing and Research II (Advanced)

4(4-0-8)

200+ Level Courses

ICGC201

Global Realities

4(4-0-8)

ICGC202

Literary Analysis

4(4-0-8)

ICGC203

Creative Writing

4(4-0-8)

ICGC204

Advanced Oral Communication

4(4-0-8)

ICGC206

Literature Into Film

4(4-0-8)

ICGC208

Language and Culture

4(4-0-8)

ICGC210

First and Second Language Acquisition

4(4-0-8)

ICGC211

Topics in Comparative Literature A: Poetry

4(4-0-8)

ICGC212

Topics in Comparative Literature B: The Short Story and the Novel

4(4-0-8)

ICGC213

Topics in Comparative Literature C: Drama

4(4-0-8)

ICGC214

Literary Non-fiction

4(4-0-8)

ICGC215

Writing for Research

4(4-0-8)

 

 

 

Life Appreciation

4 Credits

ICGH113

Moving Pictures: A History of Film

4(4-0-8)

ICGH117

Drawing as Creative Expression

4(2-4-6)

ICGH118

Photography Visualizing in the Digital Age

4(2-4-6)

ICGH119

Listen! Soundscapes, Well-Being and Musical Soul Searching

4(4-0-8)

ICGN105

Ecology, Ecosystems and Socio-Economics in Southeast Asia

4(3-2-7)

ICGN108

Essentials of Culinary Science for Food Business

4(3-2-7)

ICGN109

Food for Health

4(4-0-8)

ICGN110

Maker Workshop

4(3-2-7)

ICGN112

Stargazer

4(3-2-7)

ICGN113

Plants, People and Poisons

4(4-0-8)

ICGN115

Human Evolution, Diversity and Health

4(4-0-8)

ICGN120

Chemistry of Cosmetics and Dietary Supplements

4(4-0-8)

ICGN124

Climate Change and Human Society

4(3-2-7)

ICGN125

Games and Learning

2(2-0-4)

ICGN135

Personal Health and Well being

2(2-0-4)

ICGP101

American Flag Football

1(0-2-1)

ICGP102

Badminton

1(0-2-1)

ICGP103

Basketball

1(0-2-1)

ICGP104

Body Fitness

1(0-2-1)

ICGP105

Cycling

1(0-2-1)

ICGP106

Discover Dance

1(0-2-1)

ICGP107

Golf

1(0-2-1)

ICGP108

Mind and Body

1(0-2-1)

ICGP109

Selected Topics in Sports

1(0-2-1)

ICGP110

Self Defense (Striking)

1(0-2-1)

ICGP111

Self Defense (Grappling)

1(0-2-1)

ICGP112

Soccer

1(0-2-1)

ICGP113

Social Dance

1(0-2-1)

ICGP114

Swimming

1(0-2-1)

ICGP115

Tennis

1(0-2-1)

ICGP116

Volleyball

1(0-2-1)

ICGS102

Business Sustainability and the Global Climate Change

4(4-0-8)

ICGS111

Exploring Religions

4(4-0-8)

ICGS115

Sociology in the Modern World

4(4-0-8)

ICGS125

American History, Popular Media and Modern Life

4(4-0-8)

ICGS126

Introduction to Psychology

4(4-0-8)

ICGS127

Positive Psychology

4(4-0-8)

ICGS128

Global Gastronomy and Cuisines

4(4-0-8)

ICGS129

Tea Studies

2(2-0-4)

ICGS141

Coffee studies

2(2-0-4)

ICGS142

Contemporary Spirituality and Marketing

1(1-0-2)

ICLL100

Self Development

2(2-0-4)

 

 

 

Global Citizenship

4 Credits

ICGH116

World Cinemas

4(4-0-8)

ICGH120

Thai and ASEAN Cinema

4(4-0-8)

ICGH121

The End of the World? Development and Environment

4(4-0-8)

ICGH122

Introduction to Asian Philosophy

4(4-0-8)

ICGH123

Faiths, Ecological Justice, and the Tropical Rainforests

2(2-0-4)

ICGH127

Rome: An Empire's Rise and Fall

4(4-0-8)

ICGL101

Elementary German I

4(4-0-8)

ICGL102

Elementary German II

4(4-0-8)

ICGL103

Elementary German III

4(4-0-8)

ICGL111

Elementary Japanese I

4(4-0-8)

ICGL112

Elementary Japanese II

4(4-0-8)

ICGL113

Elementary Japanese III

4(4-0-8)

ICGL121

Elementary French I

4(4-0-8)

ICGL122

Elementary French II

4(4-0-8)

ICGL123

Elementary French III

4(4-0-8)

ICGL131

Elementary Chinese I

4(4-0-8)

ICGL132

Elementary Chinese II

4(4-0-8)

ICGL133

Elementary Chinese III

4(4-0-8)

ICGL141

Elementary Spanish I

4(4-0-8)

ICGL142

Elementary Spanish II

4(4-0-8)

ICGL143

Elementary Spanish III

4(4-0-8)

ICGL160

Introduction to Thai Language and Culture

4(4-0-8)

ICGL161

Elementary Thai I

4(4-0-8)

ICGL162

Elementary Thai II

4(4-0-8)

ICGL163

Elementary Thai III

4(4-0-8)

ICGL170

Diversities in Multilingual Societies

2(2-0-4)

ICGL201

Pre-Intermediate German I

4(4-0-8)

ICGL202

Pre-Intermediate German II

4(4-0-8)

ICGL203

Pre-Intermediate German III

4(4-0-8)

ICGL211

Pre-Intermediate Japanese I

4(4-0-8)

ICGL212

Pre-Intermediate Japanese II

4(4-0-8)

ICGL213

Pre-Intermediate Japanese III

4(4-0-8)

ICGL221

Pre-intermediate French I

4(4-0-8)

ICGL222

Pre-intermediate French II

4(4-0-8)

ICGL223

Pre-intermediate French III

4(4-0-8)

ICGL231

Pre-Intermediate Chinese I

4(4-0-8)

ICGL232

Pre-Intermediate Chinese II

4(4-0-8)

ICGL233

Pre-Intermediate Chinese III

4(4-0-8)

ICGL241

Pre-Intermediate Spanish I

4(4-0-8)

ICGL242

Pre-Intermediate Spanish II

4(4-0-8)

ICGL243

Pre-Intermediate Spanish III

4(4-0-8)

ICGN126

Plant Society

2(2-0-4)

ICGS106

Fashion and Society

4(4-0-8)

ICGS112

Geography of Human Activities

4(4-0-8)

ICGS123

Tourism Concepts and Practices

4(4-0-8)

ICGS130

Political Science

4(4-0-8)

ICGS131

Introduction to International Studies

4(4-0-8)

ICGS132

Career Preparation in a Globalized World

4(4-0-8)

ICGS133

Foundation of Mediterranean Cultures

4(4-0-8)

ICGS143

Introduction to Air Transport and Tourism

4(4-0-8)

 

 

 

Critical Thinking

4 Credits

ICGH101

Biotechnology: from Science to Business

4(4-0-8)

ICGH102

Famous Arguments and Thought Experiments in Philosophy

4(4-0-8)

ICGH103

Logic, Analysis and Critical Thinking: Good and Bad Arguments

4(4-0-8)

ICGH105

Technology, Philosophy and Human Kind: Where Are We Now?!

4(4-0-8)

ICGH106

The Greeks: Crucible of Civilization

4(4-0-8)

ICGH107

Contemporary Art and Visual Culture

4(4-0-8)

ICGH109

Creative Thinking Through Art and Design

4(2-4-6)

ICGH110

Drawing as Visual Analysis

4(2-4-6)

ICGH115

Cinematic Language and Applications

4(4-0-8)

ICGH124

Life Drawing and Anatomy

4(2-4-6)

ICGH125

How Can We Know What Is Good? Moral Reasoning and Behavior

4(4-0-8)

ICGH126

Behavioral Ethics: Why Good People Do Bad Things

2(2-0-4)

ICGN107

The Chemistry of Everyday Life

4(4-0-8)

ICGN111

Physics for CEO

4(4-0-8)

ICGN123

The Earth's Dynamic Structure

4(3-2-7)

ICGN127

Practical Mathematics

2(2-0-4)

ICGS103

Economics in Modern Business

4(4-0-8)

ICGS105

Personal Financial Management

4(4-0-8)

ICGS113

Perspectives on the Thai Past

4(4-0-8)

ICGS134

Is Democracy Good?

4(4-0-8)

ICGS135

Entrepreneurial Accounting

4(4-0-8)

ICGS144

Price Discrimination: Why Do We Pay More Than Others?

1(1-0-2)

 

 

 

Leadership

4 Credits

ICGN114

The Scientific Approach and Society

4(4-0-8)

ICGN128

Climate Emergency, Biodiversity Crisis, and Humanity at Risk

2(1-2-3)

ICGS104

Essentials of Entrepreneurship

4(4-0-8)

ICGS118

Skills in Dealing with People Across Cultures

4(4-0-8)

ICGS121

Abnormal Colleagues: how do I make this work?

4(4-0-8)

ICGS136

Social and Health Issues in Thailand

4(3-2-7)

ICGS137

Witchcraft and Gender Representation

4(4-0-8)

ICGS138

Business Event Essentials

4(4-0-8)

ICGS139

Leadership and Change for a Global Society

4(4-0-8)

ICGS145

Service-Learning – Management of Community Service Project

4(2-4-6)

ICGS146

Salaya Community Service Learning Project

4(2-4-6)

ICGS147

Women in Leadership

4(4-0-8)

ICGS148

Service Learning – Digital Campaign for Gender Issues

4(2-4-6)

ICGS149

Service Learning – Making Change

4(2-4-6)

ICGS150

Service Learning – Campaigning for a Cause

4(2-4-6)

ICGS151

Service Learning – The Art of Leadership in Practice

4(2-4-6)

ICGS152

Fantasy Literature's Environmental Message

4(4-0-8)

ICLL101

Professional Development

2(2-0-4)

 

 

 

Digital Literacy

4 Credits

ICGH111

Media Literacy: Skills for 21st Century Learning

4(4-0-8)

ICGN116

Understanding and Visualizing Data

4(3-2-7)

ICGN118

Everyday Connectivity

4(4-0-8)

ICGN119

Computer Essentials

4(4-0-8)

ICGN129

Programming for Problem Solving

4(4-0-8)

ICGN130

Cryptography: The Science of Making and Breaking Codes

2(2-0-4)

ICGN131

Digital Search Literacy

2(2-0-4)

ICGN132

Digital Security and Privacy

2(2-0-4)

ICGN133

E-Business: Technology and Digital Strategies

4(4-0-8)

ICGN134

Introduction to Artificial Intelligence

2(2-0-4)

ICGS140

Fake News, Censorship and the Politics of Truth

4(4-0-8)

ICLL102

Skills for a Digital World

2(2-0-4)