MUIC Student Wins Awards in "From Gen Z to be CEO"
November 12, 2021
2021-11-12 7:20
MUIC Student Wins Awards in "From Gen Z to be CEO"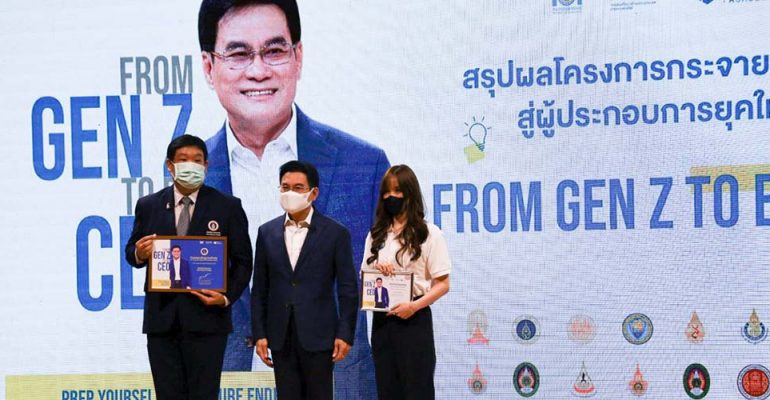 MUIC Student Wins Awards in "From Gen Z to be CEO"
A student of Mahidol University International College (MUIC) won several awards in the recently concluded "From Gen Z to be CEO" organized by the New Economy Academy (NEA) of the Department of International Trade Promotion (DITP).
Ms. Piriyada Limprapat, who is enrolled in the Finance program, won the "Gen Z Ambassador," "TOP 100," and "Outstanding Scores" awards.
"From Gen Z to be CEO" had around 20,000 contestants, with 19 MUIC students selected among them. Almost all of these 19 MUIC students were also selected by the DITP for internship abroad including China, Canada, Austria, the Netherlands and Turkey.
The competition also has the participation of 93 agencies/organizations that provide knowledge ensuring the development of young entrepreneurs. The 93 organizations include 12 academic institutions, 47 colleges under the Office of Vocational Education Commission and 34 agencies and institutions of TED FELLOW Network by the TED FUND under the Ministry of Higher Education, Science, Research and Innovation.
The program aims to provide an educational and training environment in which young people are able to develop appropriate mindsets and skills for entrepreneurship. It is supported by tech companies such as True Corporation Public Co. Ltd., Huawei Technology (Thailand) Co. Ltd., and others. In the finals, 100 outstanding and talented participants will be selected to work as interns for leading companies such as True Huawei, TikTok, EXIM Bank and Bitkub.
On November 12, 2021, the closing ceremony will be held at True Digital Park to be presided by Mr. Jurin Laksanawisit, Deputy Prime Minister and Minister of Commerce. MUIC executives and lecturers, including Asst. Prof. Dr. Chayanant Hongfa, Associate Dean for Student Affairs (who will represent the dean); Asst. Prof. Dr. Alessandro Stasi, Chair of the Business Administration Division; Asst. Prof. Dr. Nuntana Udomkit, lecturer of the Business Administration Division and project advisor; and Dr. Nutthaboon Pornrattanacharoen, Chief of the Corporate Communication Section will also attend the ceremony.