Please choose a news and article category.
𝐁𝐨𝐨𝐤 𝐏𝐢𝐭𝐜𝐡: 𝐖𝐡𝐚𝐭'𝐬 𝐘𝐨𝐮𝐫 𝐅𝐚𝐯𝐨𝐫𝐢𝐭𝐞 𝐁𝐨𝐨𝐤
September 28, 2021
2021-09-28 13:15
𝐁𝐨𝐨𝐤 𝐏𝐢𝐭𝐜𝐡: 𝐖𝐡𝐚𝐭'𝐬 𝐘𝐨𝐮𝐫 𝐅𝐚𝐯𝐨𝐫𝐢𝐭𝐞 𝐁𝐨𝐨𝐤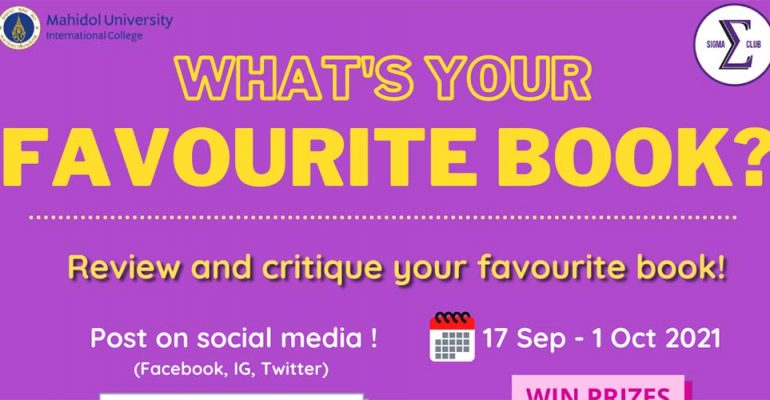 𝐁𝐨𝐨𝐤 𝐏𝐢𝐭𝐜𝐡: 𝐖𝐡𝐚𝐭'𝐬 𝐘𝐨𝐮𝐫 𝐅𝐚𝐯𝐨𝐫𝐢𝐭𝐞 𝐁𝐨𝐨𝐤
Hi this is SIGMA club
We're proud to introduce you to our 1st activity:
𝐁𝐨𝐨𝐤 𝐏𝐢𝐭𝐜𝐡: 𝐖𝐡𝐚𝐭'𝐬 𝐘𝐨𝐮𝐫 𝐅𝐚𝐯𝐨𝐫𝐢𝐭𝐞 𝐁𝐨𝐨𝐤
The rule is simple. Simply follow the instructions and you'll get 𝟮 𝗔𝗧 𝗵𝗼𝘂𝗿𝘀 (1 I and 1 D) and a chance to win prizes.
𝗣𝗿𝗶𝘇𝗲𝘀: 𝟱𝟬𝟬฿ 𝗲𝗮𝗰𝗵
2 for best critique
2 for best reflection
2 for best presentation