𝗟𝗘𝗔𝗥𝗡 𝗛𝗢𝗪 𝗧𝗢 𝗦𝗣𝗘𝗟𝗟 𝗪𝗜𝗧𝗛 𝗬𝗢𝗨𝗥 𝗙𝗜𝗡𝗚𝗘𝗥𝗦
November 5, 2021
2021-11-05 10:06
𝗟𝗘𝗔𝗥𝗡 𝗛𝗢𝗪 𝗧𝗢 𝗦𝗣𝗘𝗟𝗟 𝗪𝗜𝗧𝗛 𝗬𝗢𝗨𝗥 𝗙𝗜𝗡𝗚𝗘𝗥𝗦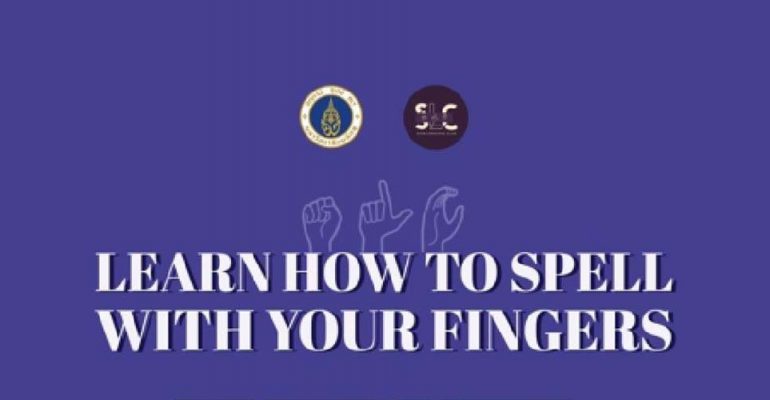 𝗟𝗘𝗔𝗥𝗡 𝗛𝗢𝗪 𝗧𝗢 𝗦𝗣𝗘𝗟𝗟 𝗪𝗜𝗧𝗛 𝗬𝗢𝗨𝗥 𝗙𝗜𝗡𝗚𝗘𝗥𝗦
Hey everyone!! Sign Language Club is back with an exciting activity!
As finals are approaching, many of you are probably wondering when will we finally get to learn sign language??
Yes, the time has come! Our last activity for this term will be….
"𝗟𝗘𝗔𝗥𝗡 𝗛𝗢𝗪 𝗧𝗢 𝗦𝗣𝗘𝗟𝗟 𝗪𝗜𝗧𝗛 𝗬𝗢𝗨𝗥 𝗙𝗜𝗡𝗚𝗘𝗥𝗦"
In this activity, we have a volunteer experienced in ASL (American Sign Langauge) who will be conducting a 𝟭 𝗛𝗢𝗨𝗥 𝗖𝗟𝗔𝗦𝗦. You will get to learn basic sign language and spelling starting with 𝗔-𝗭! There will also be interactive exercises and a worksheet for all participants to practice!
𝗙𝗢𝗥𝗠 𝗙𝗢𝗥 𝗥𝗘𝗚𝗜𝗦𝗧𝗥𝗔𝗧𝗜𝗢𝗡
https://forms.gle/HiCVGdaxD2TF44TN8
We only have '𝟮𝟱 𝗦𝗘𝗔𝗧𝗦' available so make sure to be quick!
𝗔𝗖𝗧𝗜𝗩𝗜𝗧𝗬 𝗜𝗡𝗙𝗢
The class will be conducted via Zoom
Date: 6th November 2021
Time: 2:00pm – 3:00pm
AT hours will be provided
Come and enjoy learning sign language with us! We really want to see you all!