CDP Students' Works in AUN Exhibition
July 28, 2021
2021-07-28 12:39
CDP Students' Works in AUN Exhibition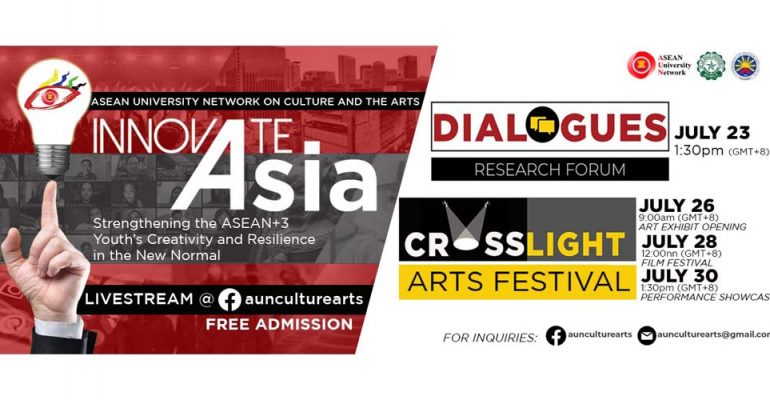 CDP Students' Works in AUN Exhibition
Five projects of students of the Communication Design Program of Mahidol University International College's (MUIC) Fine and Applied Arts Division were selected to be included in the ASEAN University Network on Culture and Arts' (AUN-CA) event called "Crosslight Arts Festival: Get Ready to Innovate, Asia!" from July 26 to 30, 2021.

Screened on the AUN-CA's online platform including Facebook page, YouTube channel, and website, the exhibition was an opportunity "for the students and teachers of AUN+3 member universities to share and foster deeper understanding of each country's culture, through various forms of design highlighting the people, place, art and heritage of their respective countries or any innovative/artistic response to the present pandemic situation."
The following is the list of students and their respective projects:
The Crosslight Design Art Exhibition:
1. "Depart: Unlock the New Odyssey" (post- Covid theme phone application) created by Ms. Karawan Naonasin, Ms. Chanoknun Putthanuntadej, Ms. Pusida Pingkarawat, Ms. Papatyada Dechakorn, Ms. Jirachaya Worakittiphan, and Mr. Chartcharnmon Singmano.

"Depart" is an ultramodern new normal traveling application for Generation Z created to reply to the expected "post- Covid" travel situation in Thailand. The application consists of special features offering travelers' new experiences with existing and new places while having a sense of safe and secure environment to travel. Features of the application focus on activities that encouraging the users to go out and traveling with their friends again after the pandemic. The users can customize their trips with friends by inviting them in. They can also share their traveling experiences together with features like sharing short video clips, creating their trips albums, participating in a seasonal competition to win together, collecting points, sharing and enjoying promotional discounts together which in turn will encourage them to travel even more. This will also help in boosting the economy of the country in general.
2. "Roamin': Zoomers' Intuitive Navigation" (post-Covid theme phone application) created by Ms. Pattatan Pawatuangsunit, Ms. Ananya Pawa, Mr. Neranchara Rujiprachakorn, Mr. Kan Mekrugsawanich, Ms. Sukritta Saenverm and Mr. Panuves Ratanachaijaroen.
Roamin' is a unique post-Covid travel application tailored to Generation Z. It is inspired by Tinder where businesses and customers can perfectly find each other based on their health log and travel preferences in real-time. Both ends benefit from the filtering process and are encouraged to practice better safety standards to access more places and gain more customers. Roamin' is a helpful bestie with a super fresh and playful personality that will enhance Zoomers' intuitive navigation through the application.
3. "Pai-ja: Fun and Safe Travel" (post-Covid theme AR Game-based phone application) created by Ms. Wipada Poolpituk, Ms. Ramol Srivaleetron, Ms. Kanokpan Anantakoon, Ms. Prima Dolorfino, Ms. Panthakorn Aroonwatanaporn, Ms. Vachiraporn Sidthilerdcharoen, Ms. Puttita Kiatsuarpanont, Mr. Tinh Bhothipiti, Ms. Kritinatcha Rojplasathien, and Mr. Asawin Romyanond and Mr. Warot Tiyakun.
"Pai-ja" is an AR game-based travel application for Generation Z designed especially for post- Covid travel situation in Thailand. This application offers both fun, safe, and unique experiences that users can enjoy with their friends. The AR system allows users to capture the tourist spot as part of a souvenir collection which can then be viewed anytime anywhere. Finally, Pai-ja is envisioned to be an application the users can trust once they plan to travel as the safety of our users is the main concern.
4. "Travel Tale: Plan Your Journey with Friends" (post-Covid theme AR Game-based phone application) created by Mr. Poom Suksirivecharuk, Ms. Piraorn Chinaprayoon, Ms. Arisra
Saengphithak, Ms. Pratabjai Ratanasirivilai and Ms. Taya Urapewacharewan
"Travel Tale" is an AR game-based travel application for Generation Z that is full of novelty storyline, competition, and discount reward. It is an application designed for post-Covid situations in Thailand that supports secure and reliable locations. This application includes a storyline for users to enjoy while using the app. Also, users are able to choose their teams to complete the mission and meet many new friends. Travel Tale also provides reward in the form of game and discount coupon for users for use with participating stores.
The Crosslight Film Festival:
1. "Stories from the Lockdown" (series of 2D animation) created by Ms. Monnapa Jantarovart, Mr. Intouch Kachanan, Ms. Punchika Supadirekkul and Mr. Pipit Sinsudtipong, designers; and Dr. Matthew Ferguson, script writer.
Many see the momentous event of Covid -19 to have accelerated the inevitable transition to online education. However, what social distancing and online learning has revealed is that there is an under-represented desire for meeting—in person. The ritual of meeting in person at a class time in a classroom environment over the course of weeks has important social, cultural, and educational values, and the extent to which this can be simulated via online platforms is not well understood. "Stories from the Lockdown" is a 2D animation series showcasing students' online learning experiences through their narratives that highlight what they have missed along with their expectations.
FB : https://m.facebook.com/aunculturearts
Website : http://www.aunsec.org/aun-ca.php
YouTube Channel : https://www.youtube.com/channel/UC8JA0-b-rseeEnss3qLCPoQ