Workshop 8: Challenge-Based Learning (CBL) Design Sprint Collaborative Brainstorming To Empower Learners Of All Levels, And MBP: Multimedia Book-Review Projects: A Project-Based Learning Model For Literature
December 18, 2020
2020-12-18 9:23
Workshop 8: Challenge-Based Learning (CBL) Design Sprint Collaborative Brainstorming To Empower Learners Of All Levels, And MBP: Multimedia Book-Review Projects: A Project-Based Learning Model For Literature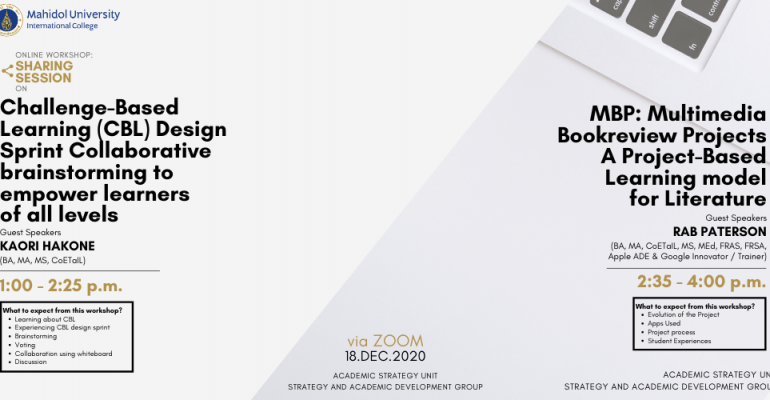 Workshop 8: Challenge-Based Learning (CBL) Design Sprint Collaborative Brainstorming To Empower Learners Of All Levels, And MBP: Multimedia Book-Review Projects: A Project-Based Learning Model For Literature
Title: Challenge-Based Learning (CBL) Design Sprint Collaborative brainstorming to empower learners of all levels, and MBP: Multimedia Book-review Projects: A Project-Based Learning model for Literature
Date & Time: Friday, 18 December 2020 from 1.00 – 4.00 p.m.
Conductors: Ms. Kaori Hakone & Mr. Rab Paterson
The Strategy and Academic Development Section under the OAA organized its 8th workshop for the academic year of 2020-2021 entitled 'Challenge-Based Learning (CBL) Design Sprint Collaborative brainstorming to empower learners of all levels & MBP: Multimedia Book-review Projects: A Project-Based Learning model for Literature'. The aims of the workshop were to introduce the challenge-based learning approach and the use of project-based learning model for learning literature.
Challenge-Based Learning (CBL) Design Sprint Collaborative brainstorming
In this session, the speaker shared her experience regarding adopting Challenge-based learning (CBL) and invited participants to explore an application called Mural Co which is an online tool that provides a virtual whiteboard where the team are able to visually collaborate, brainstorm, and map all kinds of content. It works like a big canvas that promotes design thinking and organizing the ideas in various forms: lists, flowcharts, frameworks, and drawings. Mural is usually used with Zoom or video conferencing tools that enable users to remotely work together and visually share their ideas.
CBL is a learning driven by challenging open-ended problems. Students direct and define their own learning goals including choose the challenge to work on. They therefore acquire necessary knowledge and skills needed to solve/tackle that challenge. Students' learning is ignited through series of collaboration, discussion, investigation, negotiation, meaningful construction of concepts and ideas, and presentation. Throughout the learning, students are allowed to explore the challenge from their own perspectives using technology, new knowledge and skills they developed to find an answer. The journey to the solution is valued as much as the solution. Moreover, as the challenge revolves around real world problems, students gain an authentic learning experience and knowledge that constructed in a meaningful way.
CBL is an ongoing process of documenting, reflecting, and sharing. It can be divided into three interconnected phases: engage, investigate, and act. Activities in each phase are meant to prepare the students for the next stage. It starts with a big idea and falls to the following: an essential question, a challenge, guiding questions, activities, resources, determining and articulating the solution, taking action by implementing the solution, reflection, assessment, and publishing. At 'engage' phase, it consists of 3 steps: Big idea, essential question and challenge. Leaner identifies 'the big idea' they want to work on which has to be broad and can be explored in multiple ways, for example, power, environment, and sustainability, and most of all, something they can relate to and affects the larger community. Next, learners start asking questions about that problem and select one question that has the most impact on the group, yet intriguing, and motivates them to find a solution. The next step is to articulate the essential question into a concrete and actionable challenge that creates specific solution or answer. It's crucial for students to understand that what they learn will be the result of the challenge they will choose.
The following phase 'investigate' can be broken down into 3 steps: guiding questions, guiding activities and resources, and research analysis. At the first step, the group will develop the questions to cover everything needed to create a solution for the challenge. Basically, everything must be written down as a guiding question. The bigger list of question, the better the group will know about their challenge and what they still need to cover. The next step is about deciding on which resources to use or activities to do to answer the question. The last step is an analysis of lessons learned through guiding activities and resources, which eventually lead to a solid foundation to develop a solution.
The last phase, Act, is where the students create solutions to the chosen challenge. It has 3 parts: solution, implementation and evaluation. At this phase, evidence-based solution is developed and put into action in a real-life setting. And lastly, the success and effectiveness of the solution will be gauged and adjusted, if necessary.
Problem-based leaning model for literature: Multimedia Book review
In this session, the speaker shared his experience using problem-based learning (PBL) model to teach literature. The multimedia book-review project was carried out as a response to Covid-19 situation to provide the assignments that student can do at home without use of school facilities. Plus, it was a way to blend some multimedia contents into what was traditionally more conservative written book review process. He also suggested that by shifting from Problem-Based Learning to Challenged-Based Learning model, the book-review project could have been part of a bigger challenge if they decided to tackle on something that affects/inspires the bigger society. For example, to promote reading among young reader, etc. For this project, the handouts were developed and handed to students to help them formulate the book review structure. Each student has to choose a 200-page English novel of any genre and analyze it by looking into the author's life, seeing was there anything that happened in the author's life or what was going on in the world at the time that might have influenced the way the story developed and toned, investigating how the book was structured and identifying any biases that came up in the book based on main character, second characters, plot setting type, point of view of the author, etc. In addition to a written review, students were asked to regularly write reflective blog posts on the novel as a way of engagement. The blogs were monitored using an RSS reader app call Feedly, which allowed him to keep track of all posts in chronological order.
To present the work, students were asked to create a slideshow to give a live presentation, make a book trailer video, and create a team website where each student had their own section to share their book review, video, and slideshow. The team can stylize their websites in a literature theme or add other elements to finish the look. They were encouraged to communicate and work together on online platforms like Google G Suite and Microsoft Teams.
According to the speaker, this project was his attempt to bring in a number of 21st century skills and online collaboration into classroom. His inspiration came from PISA report that mentioned the poor level of digital literacy of Japanese students who not only ranked the lowest among OCED countries, but also, according to the World Economic Forum report, lacked some critical skills needed to succeed and prevail in the future. Hence, a range of different practices, technologies, and materials were carefully set up to promote the development of these following skills: complex problem solving, critical thinking, creativity, people management, coordinating with others, judgment and decision making, negotiation, and cognitive flexibility.
The speaker also suggested that this type of project doesn't have to be only based on literature. As it can fit into any topics for any disciplines, it can be used to see how the students identify all sorts of biases or how they interpret certain facts, theories, or even beliefs.