Conference on Tourism and Business in August 2022
May 17, 2021
2021-05-17 4:46
Conference on Tourism and Business in August 2022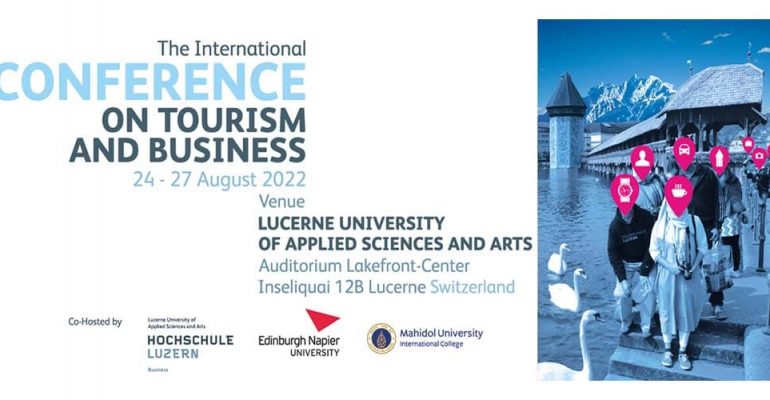 Conference on Tourism and Business in August 2022
We are delighted to announce the 4th International Conference on Tourism and Business (ICTB) in Lucerne, Switzerland, on 24-27 August 2022.
The 4th ICTB will be jointly hosted by 
• Lucerne University of Applied Sciences and Arts (Switzerland), 
• Mahidol University International College (Thailand), and
• Edinburgh Napier University (Scotland). 
The ICTB 2022 provides academics, consultants and professionals with an international forum to present their research findings and share their experience in a broad range of fields in the tourism and hospitality sectors. It also aims to foster networking and facilitate global partnerships for future research across institutions and other tourism and business fields.
We extend this invitation to academics and professionals who want to share their knowledge, experiences and ideas. Participants will have the opportunity to discuss recent developments, practical challenges and potential solutions in the broader tourism and business context with a view to developing concepts and creating alliances to promote their work.
The theme of the ICTB 2022 is:
From over-tourism to zero-tourism: Opportunities for a new beginning?
The general topics include:
Topic 1: Demand side – external shocks in general and their effects on tourism and business
Topic 2: Supply side – how does the tourism industry react to external shocks and cope with crises?
Topic 3: The effects of COVID-19 on tourism and business, and the industry's recovery
Topic 4: The positive effects of COVID-19 on sustainability
Topic 5: Tourism, pandemics and intervention design: Opportunities for a new beginning?
Please refer to the conference website for further details: www.hslu.ch/ictb2022.
For further questions, please contact us at ictb@hslu.ch.
We look forward to your contributions and to welcoming you at the ICTB 2022 in Lucerne, Switzerland.