Digital Advertising Intensive Course
November 17, 2022
2022-11-17 8:07
Digital Advertising Intensive Course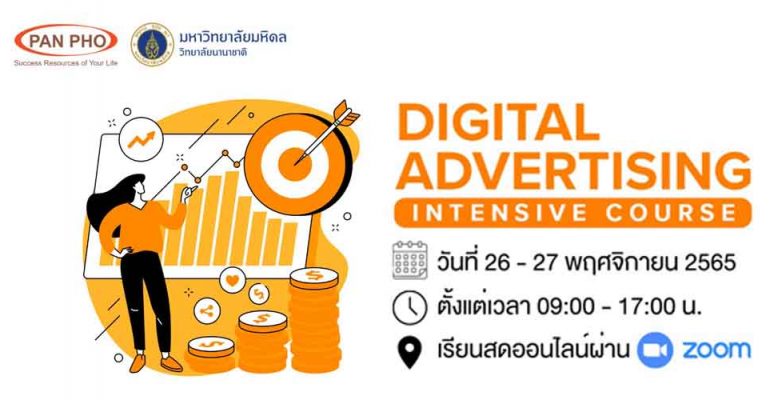 Digital Advertising Intensive Course
In an era where online advertising has become an important way for businesses to acquire customers, the question is nowadays that advertising costs are increasing significantly. What do you, as a marketer, do?
Do you believe that currently one of the challenges of most businesses is how to get more traffic to the business (data from Hubspot 2022) because nowadays every business can launch ads via a notable platform? With that, every industry has new players coming in, affecting businesses that are not able to adapt themselves.
Especially in the post-2022 era, is a new era when advertising on a single platform may not be as efficient as before, including Facebook, Google Ads, LINE, and Tiktok. However, there are different limitations and behaviors. Therefore, it is important for modern businesses to have a deep knowledge of online advertising planning in order to be able to adjust their strategies and reach their target audience with a budget. Powerful
with the importance of strategy, as a result, Pan Pho Co., Ltd., in collaboration with Mahidol University International College (MUIC), organized a seminar, "Digital Advertising Intensive" which is created to provide significant information, strategies, tactics, and know-how for better advertising performance. The teaching is conducted by 2 highly experienced speakers, namely Assoc. Assoc. Prof. Dr. Chanchai Phonthanukitithaworn, Associate Dean for Corporate Communication and Information Technology of Mahidol University International College, and Mr. Chakrit Chupreeda, Founder and Managing Director of Fore today Agency, a leading online advertising company that has partnered with famous platforms such as Facebook Ads, Google Ads, Tiktok Ads, and Lazada.
Digital Advertising Intensive course will be held on Saturday 26 – Sunday 27 November 2022 from 9.00 – 17.30. The Session will be conducted virtually via Zoom. The limited number of applications. You can apply today via the Website: panpho.co/dai or via LINE: @PANPHO (24 hours a day).