Hard Work, Success, and a Bunch of Summer Bowl
September 12, 2022
2022-09-12 7:12
Hard Work, Success, and a Bunch of Summer Bowl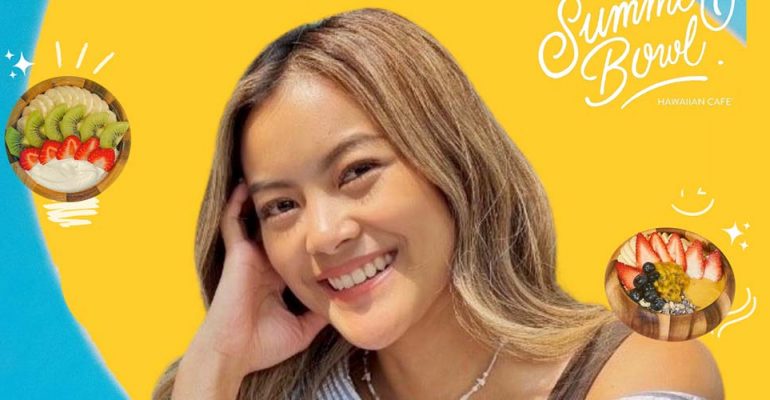 Hard Work, Success, and a Bunch of Summer Bowl
Introduce yourself/ What do you do/ What inspired you to start your own business?
My Name is Varita (Jean) Patavinthranond and I am the founder of Summer Bowl. After experiencing the food culture in Hawaii during my time as an exchange student at the University of Hawaii at Manoa, I quickly realized that there was a lack of healthy alternative to desserts in Thailand. Shortly after graduation, I opened up Summer Bowl. Known for our delicious and authentic Açaí Bowls, our café became a hit and within the first few months, it was recognized by a plethora of TV channels and social media influencers – along with being the recipient of numerous awards from online food ordering & delivery platforms for its performance.
How did Summer Bowl Café start?
As mentioned earlier, there is a lack of healthy alternatives to desserts here in Thailand. Our country is jampacked with nutritious fruits and natural produce that people from around the world come to eat. Yet, we drizzle syrup and sprinkle so much sugar that it turns from healthy to unhealthy within seconds. With our imported Açaí and fruits sourced locally, I want to educate the busy, fast-moving city dwellers of Bangkok that you can enjoy a guilt-free bowl of goodness that is healthy and sugar free.
Summer Bowl's Top 3 products to recommend!
At the core of Summer Bowl is the diverse menu of Açaí Bowls. While customers can pick and choose which fruits or toppings they prefer, our best seller is the Haleiwa Bowl – a special blend that consists of an Açaí base, home-made granola, bananas, strawberries, blueberries, and mangoes. We also recently collaborated with Yogurtland to launch an Açaí soft serve that is available at Summer Bowl and every Yogurtland branch in Thailand. In addition to the products recommended above, I also urge you to try out our two Hawaiian Coffees: Vanilla Macadamia and Toasted Coconut. We do not add any type of syrup whatsoever. The high-quality aromatic beans that come straight from Hawaii are infused with their natural flavors.
Any challenges that you faced as you run your own business?
One of the toughest challenges that I faced was surviving Covid-19. The business was constantly adapting to meet new demands while struggling with logistics, supply, lack of employees and, most importantly, low sales – all of which were brought upon by the pandemic. Despite that, the biggest challenge was internal. It was a battle against me, a battle against myself. Every morning I had to wake up to a new set of never-ending problems and issues. Without a mentor or an experienced F&B investor to guide me, I had to push through adversity and find new ways to re-ignite my entrepreneurial spark. And if I could go through it again, I would. Because I learned so much this past few years that I wouldn't change a thing.
How has your college experiences in MUIC prepared you for a career?
I studied and received a bachelor's degree in Tourism & Hospitality Management, and as part of my degree's requirement, I successfully completed two internships. With that, I acquired a knowledge of the workplace structure and what is expected of an employee. Adding on to that, it is of paramount importance to note that MUIC is a liberal arts college. As part of the program, I was exposed to a wide variety of electives which were out of my major. This truly echoes what it means to be a business owner. I am never doing one thing. I am analyzing competitors, I am working on marketing creatives and collaterals, I am purchasing, doing logistics, research and developing new products, and in charge of the financial side of my business. There is not a single thing that I learned in college that does not help me on a day-to-day basis. Everything prepped me for life in the real world.
Advice for MUIC students / College tips: What should they do during their college years?
My biggest advice for current MUIC students is to enjoy your time at college. It may seem overwhelming to do assignments for multiple classes and study for numerous exams but trust me the real world is much harder. Soak everything in and study hard, do a bunch of activities, branch out your elective selections and network with as many people as you can.
Your inspirational quote or motto
I tell myself every single day that the key to success is to invest in yourself. Eat healthy, get plenty of exercise and most importantly, never stop learning. I'd also like to say that in our day and age, social media dictates our way of life. What we choose to do, and what we aspire to become. In some ways, this can be detrimental. Try to pay less attention to the achievements of others and take small wins where you can because at the end of the day, you are competing with yourself. Who cares if this person or that person is driving a Mercedes. With enough hard work, you'll be driving one too.
Ms. Varita Patavinthranond (568)
MUIC Class of 2017, Major: International Hospitality Management
Position: Owner of Summer Bowl Café
Below is a PDF file to view.
untold_story_chapter_6