MUIC and MU Faculty of Dentistry Sign MOU
March 18, 2021
2021-03-18 10:37
MUIC and MU Faculty of Dentistry Sign MOU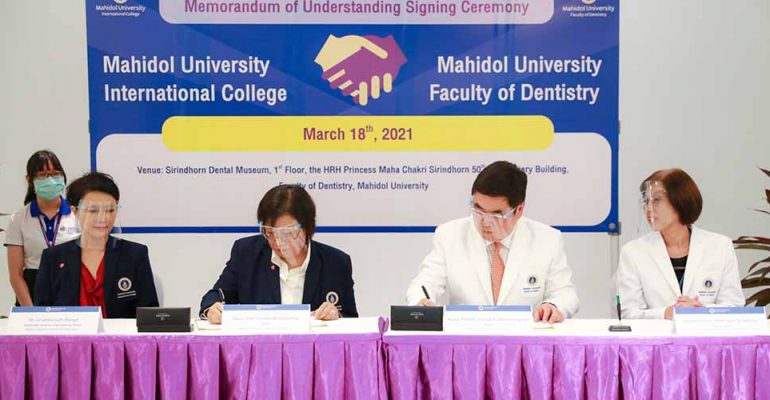 MUIC and MU Faculty of Dentistry Sign MOU
Mahidol University International College (MUIC) signed a Memorandum of Understanding (MOU) with Mahidol University Faculty of Dentistry (MUDT) on March 18, 2021.
The MOU covers the renewal of the agreement between the two institutions in which MUIC provides general education courses to the Faculty of Dentistry.
Assoc. Prof. Chulathida Chomchai, M.D., MUIC Dean, signed in behalf of the College. Assoc. Prof. Dr. Sirichai Kiattavorncharoen, Dean of MUDT, was her counterpart in the signing ceremony.
Executives from both institutions were present to witness the event as well as Biological Science alumni of MUIC who will soon graduate from the Faculty of Dentistry, two of whom have been granted First-Class Honors.
This event was held at Sirindhorn Dental Museum, 1st Floor, 50th Anniversary of H.R.H. Princess Maha Chakri Sirindhorn Building, Faculty of Dentistry, Mahidol University.