MUIC Case Club Organizes Workshop on Social Venture
October 18, 2022
2022-10-18 6:15
MUIC Case Club Organizes Workshop on Social Venture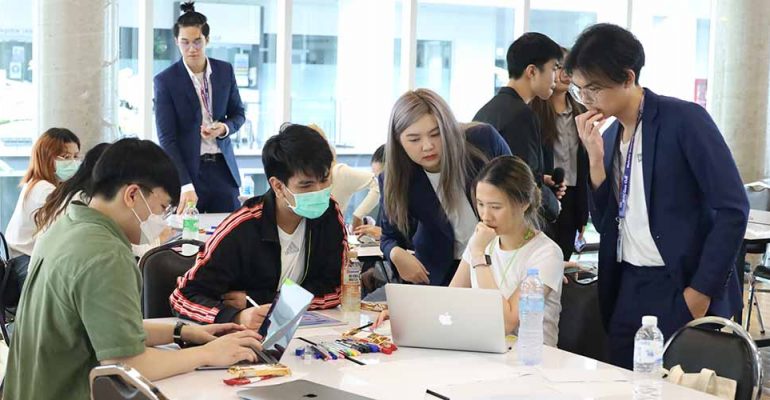 MUIC Case Club Organizes Workshop on Social Venture
The world is full of problems, from climate change to food insecurity, it's only natural to seek solutions to these problems. One option is to build a social venture to solve such an issue in a financially sustainable approach.
MUIC Case Club hosted a "Designing Your Social Venture" hybrid workshop on October 1, 2022 from 8:00 am to 3:00 pm at Charinyarasami Hall, Adityathorn Building.
The "Designing your Social Venture" event was the first hybrid workshop organized by MUIC Case Club. This event provided participants with insights that will help them build their own social enterprise with world-class experts. The workshop aimed to help students to plan an impactful and feasible design for their social venture and build strong foundations on how to successfully launch their businesses.
The event began with the welcoming messages by Mr. Alden Zecha, which motivated participants to learn about the importance and reality of operating a real social enterprise. Mr. Zecha played a vital role in providing his expertise through the "Designing Your Social Venture" course for the participants on Udemy. Subsequently, in the advising sessions by Ms. Jirasuta Boonjue and Mr. Callum Porter-Harris, passionate participants were encouraged to systematically work through their problems along with receiving feedback on their social venture business canvas that will help them refine their ideas further in the future.
Alden Zecha is a Founding Partner of a consulting firm, We Scale Impact, to which he brings more than 30 years' experience in more than 35 countries of broad-range executive expertise in operations, strategy and finance. He regularly speaks on health and entrepreneurship around the world including at Harvard, MIT, the Savings Lives at Birth DevelopmentXChange, the Global Grand Challenges Summit, the Mobile Health Summit and the White House and has been quoted in the Wall St. Journal and CFO Magazine. Mr. Zecha currently also serves as Executive in Residence at the Center for the Advancement of Social Entrepreneurship (CASE) at Duke University's Fuqua School of Business.
Ms. Jirasuta Boonjue's and Mr. Callum Porter-Harris' Reflections on the DSV event:
"Having run many workshops on this subject, domestically and internationally, I was very impressed by how creative, confident, and dedicated the Mahidol students were. It's challenging to come up with a social venture idea and design its structure within a few hours, yet the students did it professionally. With continued support, I am confident that we can expect something great from them in the future, and hopefully on the global stage as well."
– Ms. Jirasuta Boonjue, Co-founder of Learn Lab
"The students stood out in terms of their collaborative energy. With the majority of participants and student buddies having studied the online training materials a few days prior, there were multiple leaders in the room helping to guide each other. Overall the teams moved through the process much faster than normal with impressive results in terms of holistic design."
– Mr. Callum Porter-Harris, Co-founder of Learn Lab
The Designing Your Social Venture Event was organized by the MUIC Case Club Committee:
1. Ms. Intira Setavoraphan, President of MCC2022
2. Mr. Sihapanha Moun, Vice President of MCC2022
3. Ms. Jirata Sanitwongchai, Secretary
4. Mr. Piyush Saraf, Treasurer & Head of Development
5. Ms. Aileen Liu, Co-Head of Operations
6. Ms. Yanisa Sirisomboonchok, Co-Head of Operations
7. Ms. Narinya Yingcharoenthana, Co-Head of Marketing and Public Relations
8. Ms. Sophie Moore, Co-Head of Marketing and Public Relations
A few words from Ms. Jirasuta Boonjue and Mr. Callum Porter-Harris about working with MUIC Case Club:
"Working with the Mahidol University Case Club team was easy. They are very professional and humble. I appreciate and respect their courage to ask for details that they don't know. (You'll be surprised how many lack the confidence to do so). We can all be proud of their pioneering spirit and I personally look forward to their bright and meaningful journey ahead." – Ms. Jirasuta Boonjue, Co-founder of Learn Lab
"The Mahidol University Case Club team was a pleasure to collaborate with! The great on-site setup, and a few additional online tools, we can be proud at how we are removing geographical barriers to accessing knowledge and skills from across the globe. We look forward to bringing more learning experiences to the students at Mahidol University as they explore the possibilities of social impact." – Mr. Callum Porter-Harris, Co-founder of Learn Lab
About MUIC Case Club
Spearheaded by Leading Minds with the aim to empower its club members with skills equipped for their future careers. MCC members connect and collaborate with peers and professionals in the real world, nurturing them to be leaders in their respective fields
For more information, please visit
MUIC Case Club's socials:
Facebook: www.facebook.com/muic.caseclub
Instagram: www.instagram.com/muiccaseclub
LinkedIn: www.linkedin.com/company/muic-case-club/
Email: muic.caseclub@gmail.com