MUIC Holds 3rd Annual Business and Entrepreneurial Talk 2023
March 10, 2023
2023-03-17 3:01
MUIC Holds 3rd Annual Business and Entrepreneurial Talk 2023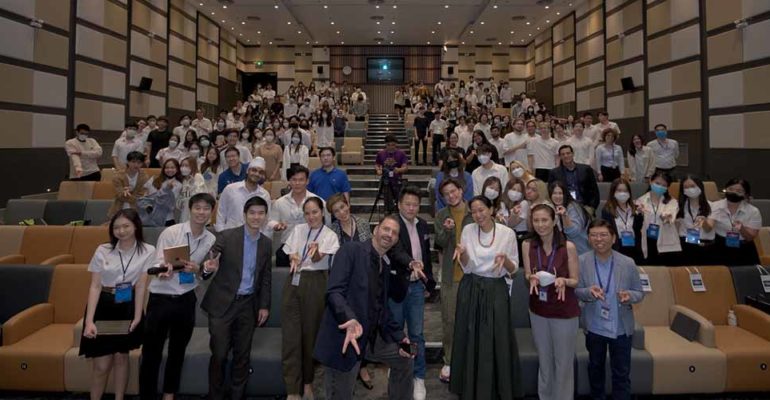 MUIC Holds 3rd Annual Business and Entrepreneurial Talk 2023
Mahidol University International College (MUIC) held the 3rd Annual Business and Entrepreneurial Talk at the ScreeningRoom (A556), Aditayathorn Building on March 10, 2023.
The event, organized by the Business Administration Division, had the theme, "The Changing World of Business and Its Impact on our Future." Asst. Prof. Dr. Chayanant Hongfa, Associate Dean for Student Affairs, gave the opening remarks and welcomed all the participants.
The event featured notable business experts and successful alumni from different industries. Highlights included knowledge sharing on business challenges in the post-Covid 19 era, the road to business sustainability, and future jobs and desirable skill sets. The guest speakers included:
­ Mr. Oliver Kittipong Veerataecha (Group Chief, Brand Innovation & Marketing, Dentsu International Thailand and BA Advisory Board Member)
­ Ms. Pimpan Diskul na Ayudhya (Vice President, Sustainable Education and Promotion Department, SET Thailand)
­ Mr. James Engel (Chief Learning Officer, SEAC and BA Advisory Board Member)
­ Mr. Teetiphun Theppadungporn (International Marketing and Sales Manager and 3rd generation executive of Theppadungporn Coconut Co., Ltd.)
­ Mr. Rawin Chirakranont (Creative Strategist, TikTok Thailand)
This event provided valuable insights and opportunities to interact with industry practitioners, network with like-minded individuals, and gain inspiration for the audience's own entrepreneurial aspirations. This event had two parts:
Part 1: Experience Sharing on the Business World
(Panel talk by BA Advisory Board and Alumni)
– Business in Post-COVID Era
– Business/Industry Challenges
– Business Sustainability
– Future Job and Critical Future Skills
Part 2: How to Prepare Ourselves for the Future (Q&A Session)
The event attracted 200 participants.