MUIC Hosts Liberal Arts Universities' Forum
November 25, 2022
2022-11-29 5:36
MUIC Hosts Liberal Arts Universities' Forum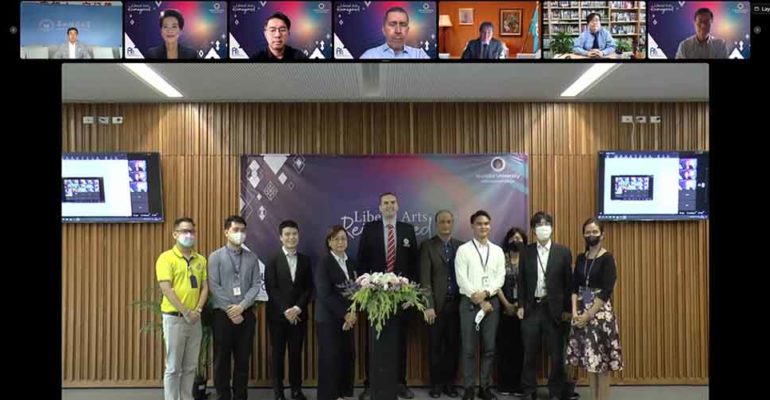 MUIC Hosts Liberal Arts Universities' Forum
Befitting its reputation as the leading international liberal arts college in Thailand, Mahidol University International College (MUIC) played host recently to the Fifth Annual Presidents' Forum 2022 of the Alliance of Asian Liberal Arts Universities (AALAU).
Executives and faculty members from 18 colleges and universities in Asia attended the on-site and online event held on November 25, 2022 at Aditayathorn Building in the MUIC campus and online through Webex application.
With its theme of "Liberal Arts Reimagined," this year's forum had insightful discussions on the effects of the Covid-19 pandemic to the academic community and what would be the current and future role of liberal arts education.
Asst. Prof. Dr. Alexander Chabot Nanni, Associate Dean for International Affairs, MUIC, welcomed the participants and also served as the program's emcee.
The opening remarks were given by Assoc. Prof. Dr. Nopraenue Sajjarax Dhirathiti, Vice President for International Relations and Corporate Communication, Mahidol University, who said it is important for liberal arts institutions to reassess what steps to be taken after emerging from the pandemic-caused lockdowns.
Prof. Dr. Leonard K. Cheng, President, Lingnan University, said in his opening remarks that he looks forward to his colleagues' discussion of achieving innovation and using design thinking in liberal arts. He also reminded the audience that liberal arts should be focused on the holistic development of humanity and refrain being influenced by political ideology.
Three keynote speeches were delivered. Prof. Dr. Taisaku Ikeshima, former Dean of the School of International Liberal Studies, Waseda University, said that although there are lingering negative effects of the Covid-19 pandemic to Japan's educational system, he conceded that the lockdown also afforded everyone the chance to meditate and reflect and at the same time—through technology—continue to be in solidarity with others.
In his keynote speech, Prof. Dr. Joshua Ka Ho Mok, Vice President, Lingnan University detailed how Lingnan University successfully managed the lockdown and the resulting online learning. One survey Lingnan University conducted showed the urgent need to return to in-person classes as soon as possible. Explaining that liberal arts education is meant to prepare students for the future, he said that new technologies should be partnered to the humanities.
Prof. Chulathida Chomchai, M.D., Dean of host MUIC, discussed how MUIC gradually reopened after the pandemic, noting that the majority of the 4,500 MUIC students wanted to have a "face-to-face, immersive type of learning." Regarding the topics of design thinking and innovation in the liberal arts, she shared MUIC's collaboration with Siriraj Hospital and the Institute of HIV Research and Innovation where Biomedical Science students worked together with Communication Design students, utilizing technology to come up with real-world solutions to challenges facing the two institutions.
The second part of the forum was composed of two panel discussions held in the afternoon, featuring executives and faculty members of AALAU universities.
The first panel was about "Achieving Innovation" that featured the following resource persons:
1. Prof. Dr. Hsien Ming Lien, Associate Dean, International College of Innovation, National Chengchi University
2. Asst. Prof. Dr. Pasoot Lasuka, Associate Dean, Faculty of Humanities, Chiang Mai University
3. Prof. Dr. Scott MacEachern, Vice-Chancellor for Academic Affairs, Duke Kunshan University
The moderator was Asst. Prof. Dr. Chompunuch Pongjit, Associate Dean for Educational Affairs, MUIC.
The second panel had the topic "Design Thinking in the Liberal Arts" with the following resource speakers:
1. Prof. Dr. Rosario Laratta, Professor of Political Science and Director of the Program, iCLA, Yamanashi Gakuin University
2. Prof. Dr. Mark Williams, Vice-President for International Academic Exchange, International Christian University
3. Prof. Dr. Shalendra Sharma, Associate Vice-President (Academic Quality Assurance and Internationalisation), Lingnan University
4. Prof. Dr. Jeng Liu, Vice President, Tunghai University
Asst. Prof. Dale Alan Konstanz, Assistant Dean for Research and Academic Services, MUIC, served as moderator.
This event, the first to be hosted by MUIC on behalf of the AALAU and the first AALAU Annual Presidents' Forum to be held in Southeast Asia, was organized by the college's Office of International Affairs.
And to reinforce the vital role played by liberal arts education, three Communication Design students of MUIC designed the manual, virtual background, backdrop, and PR poster of this event. They are: Ms. Jatuporn Sartpant, Ms. Vasuta Sombatrongrong, and Mr. Punyapat Srichompoo.