MUIC-IRGA's Roundtable Talk on Human Rights
January 26, 2023
2023-01-30 8:43
MUIC-IRGA's Roundtable Talk on Human Rights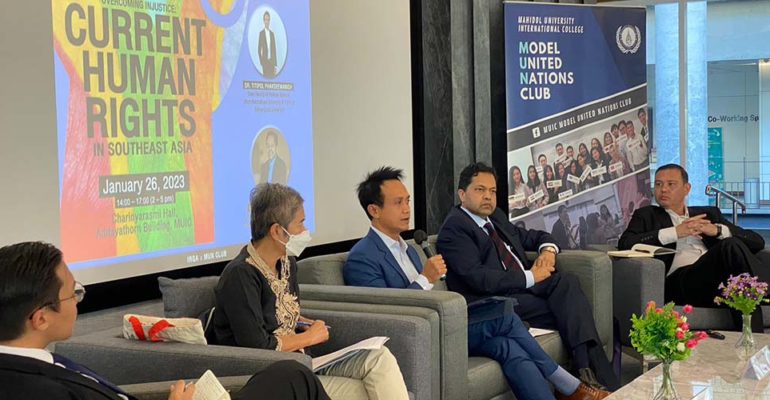 MUIC-IRGA's Roundtable Talk on Human Rights
Mahidol University International College's (MUIC) International Relations and Global Affairs Major (IRGA) under the Social Science Division, in collaboration with the Model United Nations (MUN) Club, held a roundtable discussion entitled: "Overcoming Injustice: Current Human Rights in Southeast Asia" at Charinyarasami Hall in Aditayathorn Building on January 26, 2023.
The guest speakers were Dr. Sriprapha Petcharamesree, former Representative of Thailand to the ASEAN Commission on Human Rights and Director, Pro Rights Foundation; Dr. Titipol Phakdeewanich, Founder, Human Rights Center, Ubon Ratchathani University; and Dr. Rossano Ramcharan, faculty member of IRGA and Cofounder, Asia Centre.
Dr. Sriprapha talked about the politicization of human rights in ASEAN and gave three examples, namely, the war on drugs in the Philippines, the Rohingya crisis in Myanmar, and the recent coup also in Myanmar.
Dr. Titipol, on the other hand, discussed the importance of freedom of expression and the restrictions placed on it.
Dr. Rossano, meanwhile, focused on the need for protection of indigenous peoples' intellectual property rights.
Asst. Prof. William Jones, Chair of the Social Science Division, along with Mr. Mr. Faris Waesahmae, Secretary and Head of Academic Team of the MUN Club, served as moderators. Ms. Pinda Viriyapongsri, the President of MUN Club, gave the opening remarks.