MUIC-THM to Offer Health and Wellness Management Course
August 4, 2022
2022-08-04 2:22
MUIC-THM to Offer Health and Wellness Management Course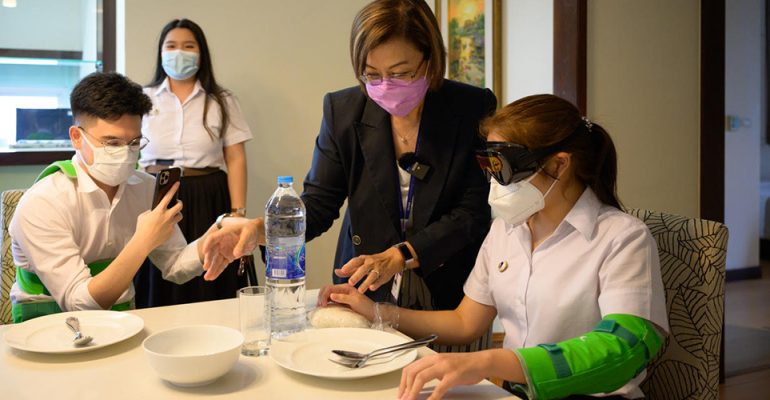 MUIC-THM to Offer Health and Wellness Management Course
Mahidol University International College's (MUIC) Travel and Service Business Entrepreneurship Program recently developed and introduced a new course related to health and wellness management.
In a seminar workshop entitled Ethics and Medical Tourism (an activity of the ICHI 344 Special Topics: Health and Wellness course) held on July 8, 2022 at the Presidential Suite, MUIC, it was announced that a new course entitled Health and Wellness Management will be offered starting Academic Year 2022-23.
One of the guest speakers was Prof. Chulathida Chomchai, M.D., MUIC Dean, who discussed the importance of elderly care. She told the audience composed mostly of Travel and Service Business Entrepreneurship students "how it feels like to be an elderly person," emphasizing how ageing can affect a person's physical and mental well-being.
During the workshop, the students used an improvised set of equipment that demonstrated an individual's declining physical mobility especially involving their legs, arms and back. Goggles and ear buds were also used to mimic how it feels to have deteriorating eyesight and hearing. Because of these, the students were able to have a better understanding of how difficult it must be for the elderly to live and interact in the real physical environment.
With these experiences during the workshop, along with the knowledge they learned from the seminar, it was hoped that the students were able to develop more empathy for the elderly and inspire them to design appropriate tourism services for this particular segment.