MUIC's Debate Club Makes it to Tourney Finals, 4 Speaker Awards
November 30, 2022
2022-12-07 8:11
MUIC's Debate Club Makes it to Tourney Finals, 4 Speaker Awards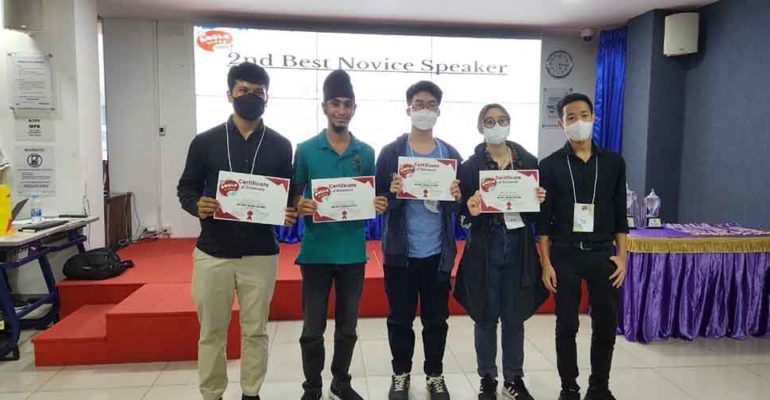 MUIC's Debate Club Makes it to Tourney Finals, 4 Speaker Awards
The MUIC Debate Club brought a strong showing yet again as they won accolades in the Anglo Blend 2022 Debate Tournamentat Anglo Singapore International School on November 19-20, 2022.
Team "The Bald Eagles" (Karan Pathela, Krittiya Sagaekhao, and Sumit Sachdev) spearheaded this success, beating out Chulalongkorn and Thammasat as the only undefeated team leading up to the Grand Finals.
Krittiya Sagaekhao (ICBI) was selected as the 2nd Best Novice Speaker, distinguished further by the fact that she had only been in the club for a single term. She shares this prize with fellow club member Tate Lee (ICCS) from team "The Bundit Bois," who tied with her in speaker score to gain the joint award for MUIC.
Sumit Sachdev (ICCS), who previously worked together with Krittiya to become semi-finalists in the World Changers Tournament, also became a Top 5 Best Speaker in the Open Category.
Finally, team leader Karan Pathela (ICBI) was awarded the honor of #1 Best Speaker in the entire tournament. Even though "The Bald Eagles" lost the Grands in a split decision by the judges, their hard work and camaraderie ended this term with a bang.