MUIC's Nature Lovers Club Undertakes Composting Project
November 30, 2022
2022-11-30 5:12
MUIC's Nature Lovers Club Undertakes Composting Project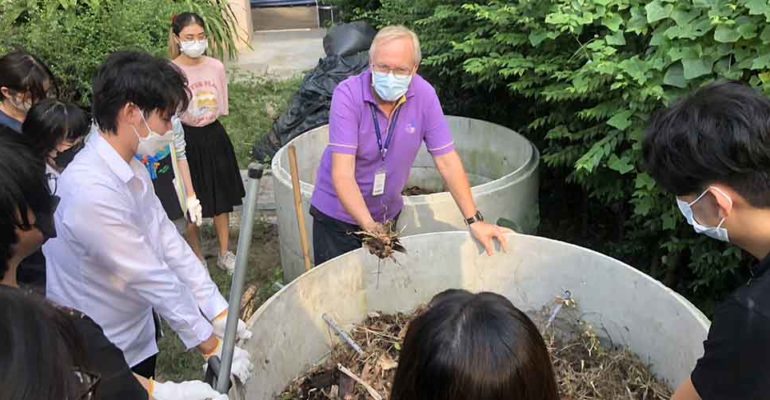 MUIC's Nature Lovers Club Undertakes Composting Project
"Composting: An Organic Matter!" was the first activity organized by the Nature Lovers Club for Term 1 of Academic Year 2022 – 2023. This is an on-site activity in collaboration with the Science Society Club from September 29 to November 17, 2022. It was conducted every Thursday evening for seven weeks at the back of MUIC Building I.
Composting is the process of converting organic matter, such as dead leaves, branches, and vegetable and fruit waste, into organic fertilizer. Before the activity began, the participants conducted an online session to provide brief information about composting and what participants will do during the activity. Then, there were three major sessions where the participants had to put all the organic materials into the bins, mix them, and add water to the bins as well as drilling and adding pipes. The rest of the sessions included mixing the materials and adding water weekly to maintain good conditions for decomposing.
This activity provided knowledge and awareness on what participants can do with organic waste by converting it into valuable fertilizer. The organic fertilizer from this activity can be further used in future activities while also reducing waste. Moreover, this activity also provided the participants with teamwork skills and social skills as collaboration is needed.
The club expressed gratitude to all the 36 participants who came weekly to participate in this activity. As a reward, all the participants at the last session were given pizza to enjoy.
Also, the club congratulated the three winners who were the most frequent participants, earning for themselves a cash reward of 600 Baht each. They are Nut Sono (International Relations and Global Affairs), Aiyanat Kampanawat (Intercultural Studies and Languages) and Akira Panyawongkhanti (Computer Engineering).