MUIC's IRGA Hosts Forum on Diplomacy, Development and Human Rights
November 30, 2022
2022-11-30 5:28
MUIC's IRGA Hosts Forum on Diplomacy, Development and Human Rights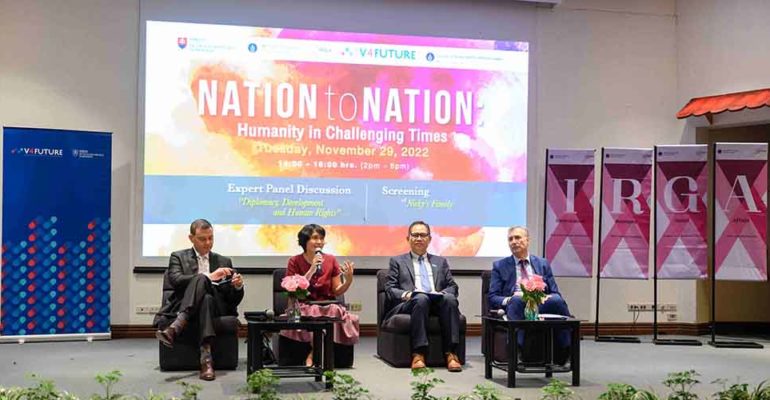 MUIC's IRGA Hosts Forum on Diplomacy, Development and Human Rights
Mahidol University International College's (MUIC) International Relations and Global Affairs (IRGA) program held an event entitled "Nation to Nation: Humanity in Challenging Times" on November 29, 2022 at the Auditorium.
In the event's first of 2 parts was an expert panel discussion on the topic "Diplomacy, Development and Human Rights" that featured as guest speakers the following: H.E. Jaroslav Auxt, Ambassador, Slovak Republic; Mr. Myo-Zin Nyunt, Deputy Regional Director Asia Pacific, UNICEF; and Dr. Vachararutai Boontinand, Director, Institute for Human Rights and Peace Studies, Mahidol University. Asst. Prof. William J. Jones was the discussion's moderator while Asst. Prof. Dr. Natanaree Posrithong was the emcee. The IRGA Ambassadors, a group of IRGA students, assisted in the event's proceedings.
During the panel discussion, Amb. Jaroslav Auxt emphasized the importance of diplomacy in maintaining peace. He also discussed the cooperation between the Slovak Republic and other Eastern European countries while at the same expanding the group's network to Japan, South Korea and others, benefitting not only the involved countries' trade relations but also their social and cultural interactions.
Deputy Regional Director Myo-Zin Nyunt outlined the main tasks of UNICEF, detailing how it helps millions of impoverished children worldwide. He said UNICEF has a presence in 130 countries supported by 18,000 staff. In Southeast Asia, it has 28 programs that actively support children's rights to health and education.
On the other hand, Dr. Vachararutai Boontinand discussed the important role that education plays to ensure the protection and promotion of human rights. She noted that educating people about human rights is not limited to the academic setting, but engaging with them through dialogues in day-to-day settings could also be quite effective.
Prof. Dr. Chulathida Chomchai gave the welcome remarks, noting that "this event serves as a sign of hope and optimism towards the future where we can live together in peace and prosperity."
Over 200 people attended the event. They were joined by representatives from the embassies of Czech Republic, Hungary, Poland and Ukraine along with MUIC executives and faculty members.
The second part of the event was a screening of the film, "Nicky's Family," about a British man who saved more than 600 Jewish children from the Nazis shortly before World War 2. The guest speakers noted the clear parallels between the events and issues depicted in the film with those happening in the world today.