MUIC's Food Science Students Reach Semi-finals in APEC Food Contest
November 2, 2022
2022-11-02 2:07
MUIC's Food Science Students Reach Semi-finals in APEC Food Contest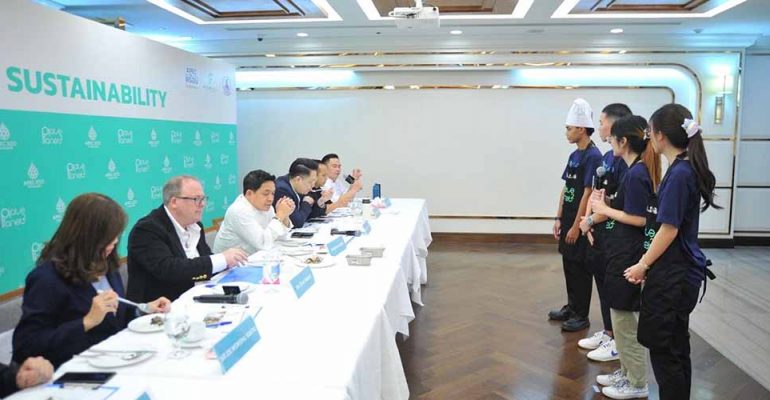 MUIC's Food Science Students Reach Semi-finals in APEC Food Contest
Three students from Mahidol University International College's (MUIC) Food Science and Technology major reached the semi-final round in the "APEC 2022 Future Food for Sustainability: Plate to Planet" competition held on October 29, 2022 during the Future Food event in Central World.
The three students are: Ms. Panyawaree Saringkarnpoonperm, Ms. Kittiwadee Kittisuphat, and Mr. Napasadol Tangsittichoke. They collaborated with a representative from Tonklar Facai restaurant (which has a branch in the MUIC campus).
They passed the 60-team round, in which 60 teams were selected from a total of 2,018 participating groups from around the country and from various sectors including food business, researchers, and students of all levels from undergraduate to Ph.D. programs.
Afterwards, the students received the chance to participate in the 2-day incubation camp which included three workshops: future food, business pitching for food product, and a culinary session with noted Chef Chumpol Jangprai. Then the team created and presented their food creation called "Kaotommud Superfood," as well as made a business pitch to the panel of judges.
Though the MUIC team was not able to reach the final round of the competition, they still received recognition for being part of the 60 teams and were accordingly given a certificate by Mr. Anucha Nakasai, Minister of the Office of the Prime Minister.
The competition is a part of Thai Prompt APEC Prompt campaign. The key objectives of the competition are to show Thailand's potential as a producer of future food under the concept of Bio-Circular-Green (BCG) and a focus on Thai soft power and authentic Thai ingredients.