THM Ambassadors: Representing the Best of MUIC
February 10, 2022
2022-02-10 5:15
THM Ambassadors: Representing the Best of MUIC
Meet the THM Ambassadors, 12 students enrolled in the THM Division's Travel and Service Business Entrepreneurship program selected and trained to serve and represent the division in major college events. The group's vision is "To enhance the reputation of tourism and hospitality industry and promote MUIC as the top institution for THM studies."
Four of them were on duty in the recently held MUIC Exclusive Tour and Talk where, for the first time in months, MUIC welcomed a large group of high school seniors and their parents to get an orientation about MUIC's academic offerings, meet with executives, lecturers, staff, and students, and have a guided tour of the college's facilities. The four THM Ambassadors in the event were: Ms. Rushitha Jain, Ms. Phitchaya Phothong, Mr. Sutanmit Sutadwanich and Mr. Sivakorn Kengmala. We were able to interview the first three students.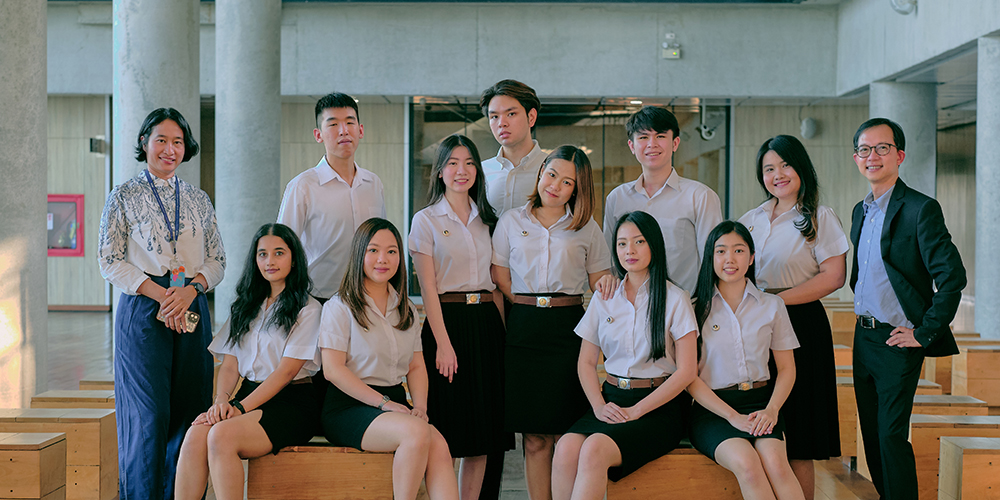 The THM Ambassadors in the MUIC Exclusive Tour and Talk event provided assistance in the form of social media marketing while one of them was in operations, putting into practice what they have trained for. They have undergone content marketing training under Dr. Kaewta Muangasame, a faculty member of the THM Division, who has overall supervision of the THM Ambassador project along with her colleagues—Asst. Prof. Dr. Ka Tat Nixon Chen and Ajarn Toby Wai-Tak To.
Aside from the Content and Social Media Team, the other teams are Operations Team, Research and Development Team, Event Project Team, and Communication Design Team. They have planned PR activities including a series of webinars and THM alumni talks scheduled for implementation in 2022. These are expected to support the communication efforts of the THM Division in particular and MUIC in general.
During the event, Ms. Phitchaya Phothong,who is part of the Operations Team, said her team "coordinates and facilitates meetings, notes and announces important information, prepares organizational materials (slides) and presents the work in the meeting. So, overall we help the team run the work smoothly."
On the other hand, Ms. Rushitha Jain and Mr. Sutanmit Sutadwanich are from theContent and Social Media Team and their duties mainly consisted of "creating and making content to post on our social media pages like Instagram and Facebook." Rushitha added that "I work as an admin and control the social media pages by executing the marketing materials with my colleagues," Asked why they joined the THM Ambassadors, Rushitha said, "I have enjoyed studying Hospitality and Tourism Management courses and doing many activities at MUIC. I wanted to share my experiences and journey with potential students and their parents. Additionally, I want to build and gain more experience which will help me in the future."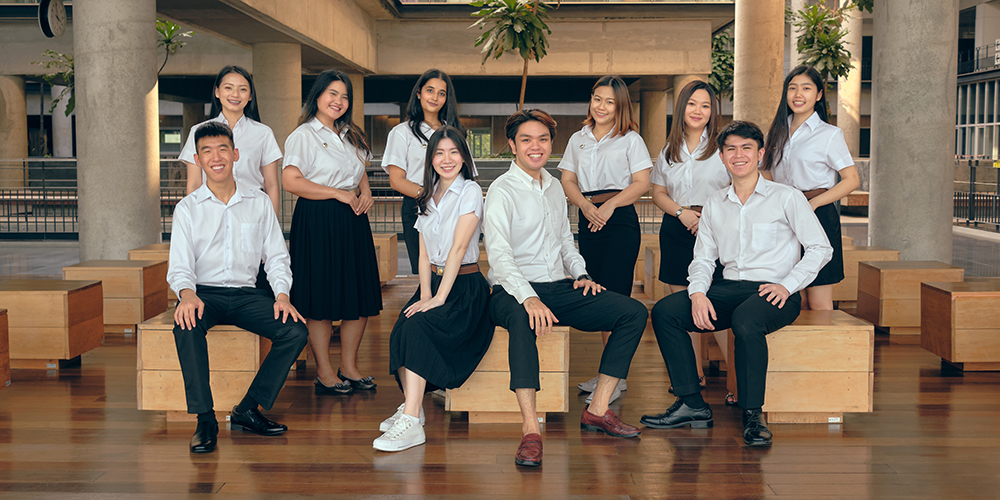 On the other hand, Phitchaya described herself as being "strongly passionate about tourism, hospitality and the service business. I think of the THM Division as my second home. I did not hesitate to apply as it is an opportunity to work for the division and to get to know other friends in the THM Division who share the same interest and passion."
For Sutanmit, "Volunteering as a THM Ambassador would allow me to give back to our university's community, professors, and individuals outside our campus. I believe that becoming involved at our university and sharing our knowledge and personal experiences with others are important. When students, parents, and community members visit our university, they need a trustworthy and courteous guide. THM Ambassadors can represent the university while also making visitors feel at ease by sharing personal experiences."
Sutanmit dreams of being a restaurant manager someday. "I love to see the smile of the customer when they avail of our services." He explained that his experiences as a THM Ambassador "will help us to prepare for our future career by developing certain hard and soft skills in the workplace, gaining experiences that relate to real-life application, and also cultivate a career-ready mindset."
On the other hand for Rushitha, "I am really interested in working in the Indian wedding industry. As an Indian who grew up attending many weddings, I understand the culture and can really put my experience and knowledge to use. So my ultimate goal is to start my own business in the wedding sector in the near future."
She believes that being a THM Ambassador will help her gain a unique perspective and experience that she might not get anywhere else. "This will really help me develop some skills that will be needed in the future. Ultimately, in this competitive world, having experience can really determine one's success or failure in life."

And for Phitchaya, she is keeping her options but is confident that "working as a THM Ambassador replicates the real work process in organizations and companies. This would include planning, creating strategies, getting involved with content marketing, organizing events, and dealing with target markets. This gives me an overall view of the work process in a business that I could use to improve myself and implement in future careers."
If you're dreaming of working in the travel and service business industry someday, you might want to join MUIC's Travel and Service Business Entrepreneurship program. The THM Ambassadors project is among many activities that the program's students can join to learn valuable skills they can use in their future career.
For more information about the Travel and Service Business Entrepreneurship program, please click here: https://muic.mahidol.ac.th/eng/programs/undergraduate-programs/management/
For more details about MUIC admission, please click here: https://muic.mahidol.ac.th/eng/admissions/thai-students-and-foreign-residents/