THM Club Holds Event Design Contest
August 10, 2021
2021-08-10 9:40
THM Club Holds Event Design Contest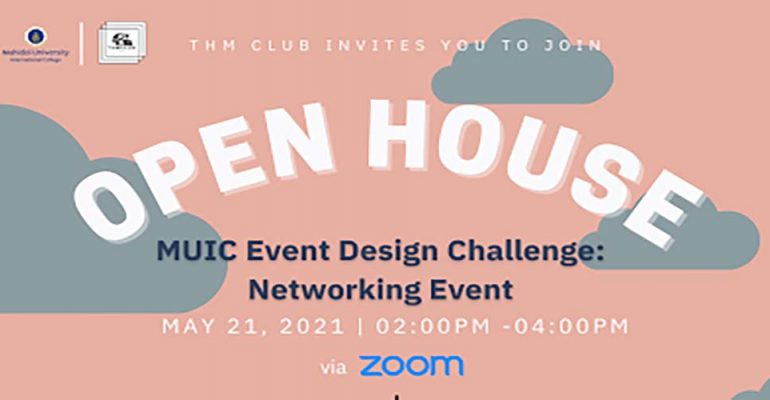 THM Club Holds Event Design Contest
The THM Club of Mahidol University International College (MUIC) held a competition called "MUIC Event Design Challenge: Networking Event" recently.
A total of 19 teams (with 83 contestants) competed by coming up with the best proposal for an event that they plan to organize.
To prepare the contestants, an Open House was held on May 21, 2021 which featured two resource persons who discussed the theories and practice of events management. They were Mr. Wai Tak To (Ajarn Toby), who teaches Event Management Fundamentals course and has plenty of experience in this field, and Khun Akshat Kadhtawal, the founder of Beer with Peers which is a Bangkok-based networking event organizer.
The contestants then submitted their respective team's proposals to the club committee which then selected the four finalists. Each of these teams gave a presentation before a panel of judges composed of Asst. Prof. Dr. Chayanant Hongfa, Dr. Kaewta Muangasame, and Mr. Wai Tak To.
The winners received cash prizes of 10,000 Baht for 1st Place, 5,000 THB for 2nd Place, and 2,000 for 3rd Place.
The winners, all of whom are in the International Hospitality Management program, are:


1st Place: 4 Spoons Team
Pemika Kaewareelap
Suphamas Cheewachutirungruang
Pauprima Aranyakananda
Napatsorn Chansuttikanok

2nd Place: Northern Light Team
Sirinada Sribunruang
Nichaphatr Prasitratanaporn
Supisara Saengkaew
Sivapong Lamatipanont
Patchara Phonghanpanich

3rd Place: Wonton Ranger Team
John Gorman
Suthee Amornrattanavej
Parunyu Wu
Phunsak Kasemsuphakan
Poottinan Pongpattarawit