Greetings from ANIMAL LOVERS CLUB

Let us introduce you our second activity.
WOOF YOU BE MINE?
To complete this activity
1. Take a picture or a video of your pet and edit it in the themes of Valentines day. You can put accessories on your pet, or it can be stickers, writing or anything that reflects the theme.
2. Post the picture or video on your instagram story and tag @muic.animal.lovers
3. Upload the same picture you posted on your instagram story to the form. If it's a video, download and submit the same video in the form. The form is provided on @muic.animal.lovers instagram bio.
4. In the submission form, write a small message/description of the inspiration behind the post.
5. Complete the evaluation!
6 winners will be selected and will get 500THB Starbucks Voucher as a prize

All participants will receive AT hours 

The image or video can be submitted anytime from 10th Feb until 14th Feb 2021

Hope you have fun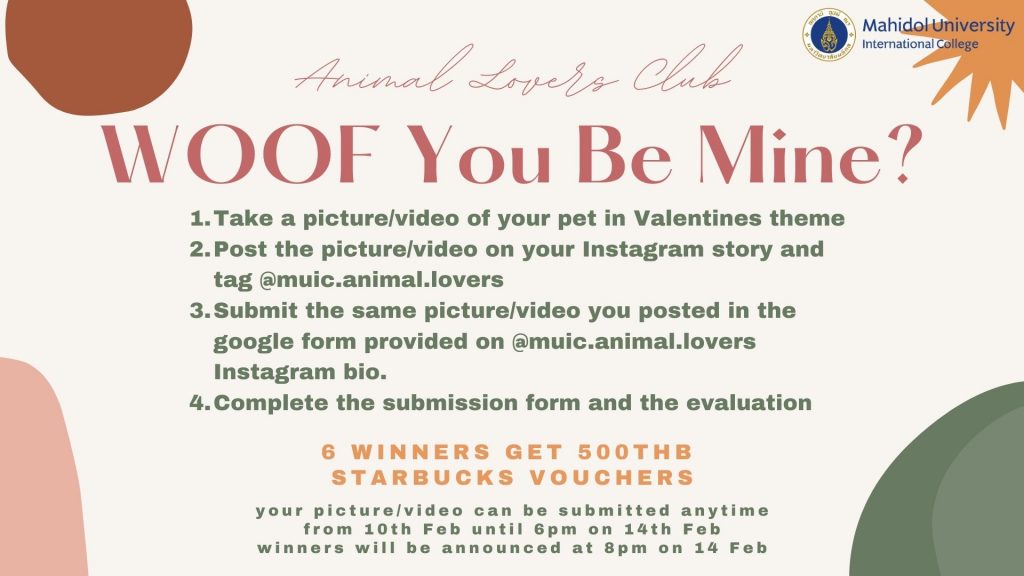 We are sorry that this post was not useful for you!
Let us improve this post!
Tell us how we can improve this post?