Workshop 9: TIPS to Prepare New Online Course for MUIC CONNECT
March 22, 2022
2022-03-22 13:00
Workshop 9: TIPS to Prepare New Online Course for MUIC CONNECT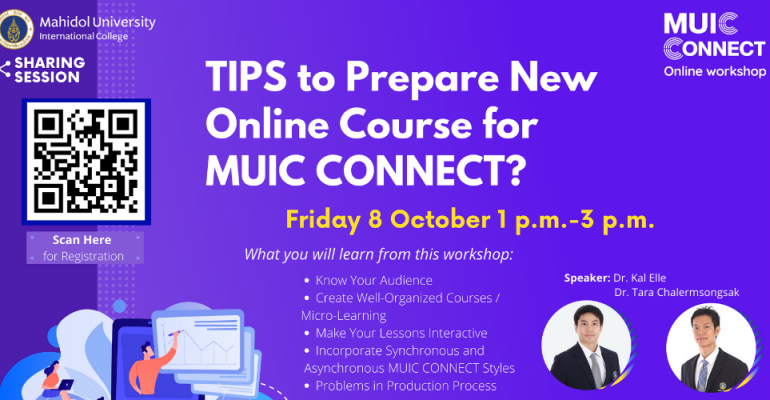 Workshop 9: TIPS to Prepare New Online Course for MUIC CONNECT
Title: TIPS to Prepare New Online Course for MUIC CONNECT
Date & Time: Friday, 8 October 2021 from 1.00 – 3.00 p.m.
Conductors: Dr. Kal Elle and Dr. Tara Chalermsongsak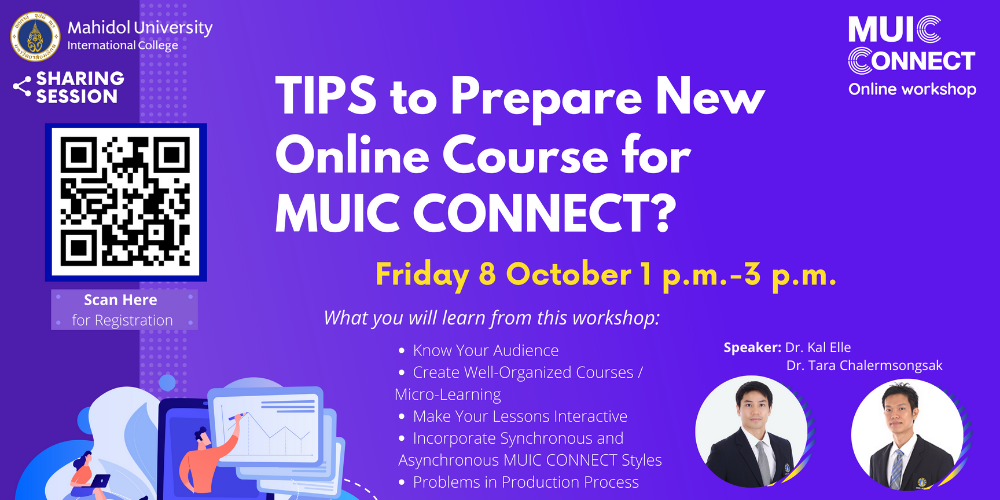 The Strategy and Academic Development Section under the OAA and the EdTech organized its 3rd workshop (the academic year of 2021-2022) entitled 'TIPS to Prepare New Online Course for MUIC CONNECT'. This experience sharing session focused on tips to prepare and convert your courses into e-learning formats for MUIC CONNECT, and challenges that you might encounter during the course development process.
MUIC has offered its own MOOCs namely MUIC CONNECT with the aim to contribute knowledge to the world, to enhance teaching and learning beyond classroom, and to showcase the programs and faculty to the wider public.
One of the common mistakes we see new online course developers do is they don't know who're they selling to. It's not as hard to have students enroll in your course as making them happy, come back for more, and recommend your course to friends. Before creating the online course, you need to find out as much as possible about the targeted audience. It's important to remember that it's impossible to cater to everyone. Narrowing down the individuals who's likely to be your potential learners will directly help you better design the course structure, content choices, and other activities incorporated in the course. However, studying prospective learners is just the tip of the iceberg when it comes to creating a new online course. You need to make sure that your course idea has high market demand by researching the market and identifying your competitors to know what they are offering and what threats they are presenting. It, therefore, helps you outperform your competitor and edge out the competition.
Next is to create a well-organized course to encourage student motivation, performance, and persistence. As students learn by connect the new knowledge with the previous knowledge, having a sense of direction is not only appreciated, but also gives them a roadmap that ensure consistency in module design. It creates a predictable rhythm, and helps them quickly understand teacher's expectations. Moreover, by considering the attention span of learners and the change that technology brought to the way we give – receive – ingest information, teachers are encouraged to use a new practice called 'microlearning' to design and deliver the online course.
Microlearning involves dissecting learning into a bite-sized portion that you intend to feed student in only less than 10-minute video. The goal of these videos are not to give all the details to students to study, but rather give the main point of introduction, a little bit of main body, and conclusion to hook them up in the topic. The practice advocates that it matches human brain processing capabilities, solve disengagement and poor retention. The study shows that we are able to retain knowledge longer when we are focused on subject, and given information in a short burst. This is due to the fact that learners' memories don't have to clutter with irrelevant information, so it makes retention better. In addition, this strategy is meant to cater to wilder audience because it has defined goals and faster to deliver. Thus, the content offered will be tailored to needs, and easily and readily accessible. Learners therefore can take the course at their own pace, wherever and whenever they need.
The next tip is to make your lesson interactive. There are three factors: speech, focus and engagement, the complexity of lessons. To emphasize the interaction, you need to adjust these factors appropriately along the video. While monologue has its own advantages, no students would be engaged if you do lecture and speak for one hour. When speaking in front of the camera, you can add some elements to make it more conversation-like. For instance, adding activities or asking a lot of questions, etc., will help the audience maintain focus and interest. Another the factor that affects learner's engagement is the complexity of lessons. Even when the topic is very complex, you have to tone it down and make it understandable for general public and high schools. Learners are going to lose interest and disappear if the course appeared to be too difficult or too easy. However, this could be the result of faulty expectations. The best way to mitigate this problem is to communicate all the possible information with learners beforehand, so that they know what you have and what they are expected to do, perform, and achieve.
Online course normally falls into two categories, either synchronous or asynchronous. Synchronous class means the course is running in real-time. Students and teachers are attending together from different locations. While asynchronous class allows learners accessing materials without time and place restrictions. When designing an online course, you need to decide which style you want to incorporate into your course. The style will not only dictate the course activities, but also the personality and learning styles of future learner your course is looking for. Besides implemented activities, you can arrange a meeting with students once or twice a week to somehow fulfill what student is missing in the onsite class. However, as all MUIC CONNECT courses are asynchronous, it'll be very time consuming, especially if you have several courses to manage.
The last tip that could make your course more inviting to the general public is what you can offer at the end of the course. MUIC CONNECT courses are not the regular MUIC courses and currently provide only a certificate to its students on completion. These courses won't be counted as a for-credit program because their contents are just a part of your full-fledged course. It, however, can be served as an introductory course, providing a glimpse of what they will be offered when they enroll in MUIC.
Online learning is here to stay. It has gained popularity and being normalized even before the pandemic. Several prestigious institutions around the world have joined the craze and proved that online learning provided the solutions to traditional classroom. However, we have to keep in mind that after things get better with the pandemic, it's going to be really hard to get the students to sign up for the online course. We, as much as our students, want to physically be there in the classroom and actually interact with learners. And despite the opportunities that online learning presents, you can lose students as much as a normal classroom, if not easier. Lots of universities decided to go hybrid, to strengthen the limitations of online and in-class course might possess. Still, this may take a toll on teachers who also need to adjust to new technology, relearn useful skills, and improve their practices, to keep up with the change both pre and post-pandemic. Thus, being aware that brick and mortar is not the ultimate answer to 5.0 education is not enough, teachers need appropriate support, training, standardized platforms, and equipment, in order to become a real future teacher.