Workshop 8:Want to Develop an Effective Script for Your Online Course?
March 22, 2022
2022-03-22 12:58
Workshop 8:Want to Develop an Effective Script for Your Online Course?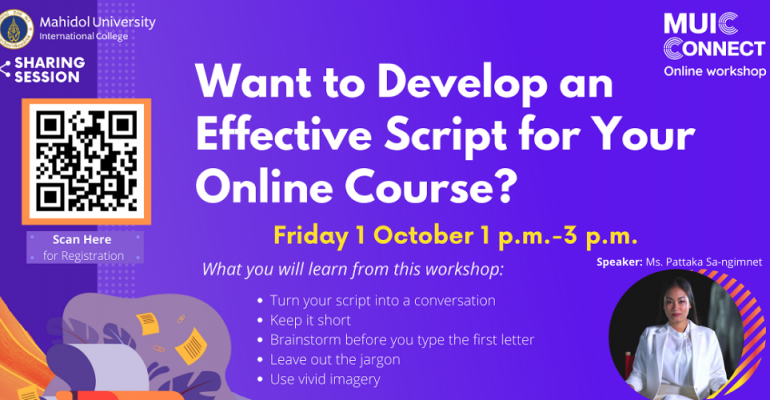 Workshop 8:Want to Develop an Effective Script for Your Online Course?
Title: Want to Develop an Effective Script for Your Online Course?
Date & Time: Friday, 1 October 2021 from 1.00 – 3.00 p.m.
Conductors: Ms. Pattaka Sa-ngimnet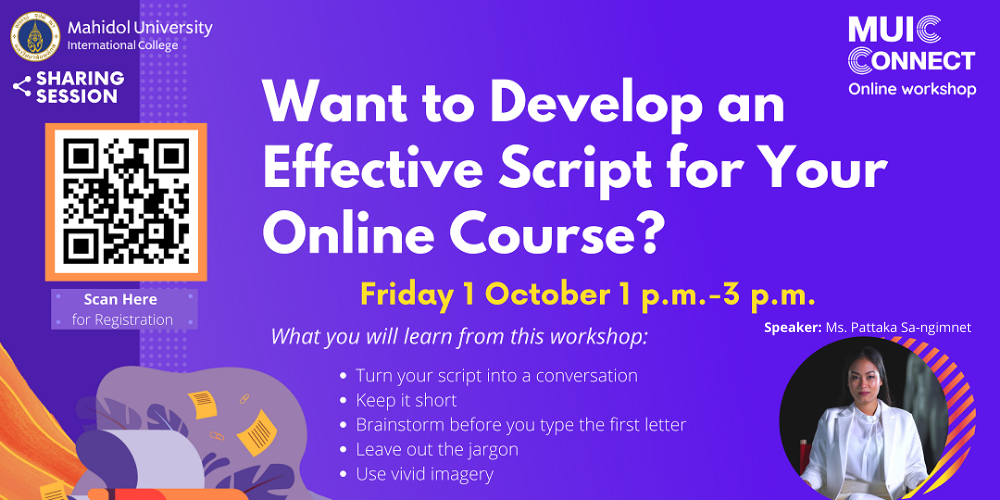 The Strategy and Academic Development Section under the OAA and the EdTech organized the 2nd workshop (the academic year of 2021-2022) entitled 'Want to Develop an Effective Script for Your Online Course?'. The purpose of this workshop was to share the experience with writing a video script for an online course, and the essentials behind video production, including tips for creating a video that actually engages the audience.
To develop an online class, one must complete an Online Course Analysis and Design Form and submit it to EdTech. The form requires the details of the course objectives, the topics, and sub-topics, and also the objectives. It then goes through the course approval process in which it will be justified how the course will benefit from being delivered in an online format. In the proposal, the content structure is laid out and well-configured with each online lesson to match the activities and objectives you plan to implant.
When developing an online course, it's recommended to go with either the 'more topics' or 'fewer topics' approach. While both are driven by outcomes that are used on many scales, from developing curriculum until designing for appropriate teaching strategies, materials, and assessments, the difference is that 'more topics' mean more of everything; topics, sub-topics, objectives, materials, and so on. While it breaks down the route to desired outcomes and makes it easier for the student to follow, it still requires a heavy workload on the teacher, and students could end up falling behind in an attempt to satisfy those minor objectives, instead of actually learning and achieving course goals. With 'fewer topics', the content won't be added up to an already jam-packed syllabus, and teaching won't mean a race to the course finish line – rather it allows a space where students can experience deep and meaningful learning that every teacher is hoping for. Still, you are required to put an extra effort when investigating a wide range of learning activities, consider their affordances and limitations in relation to course learning goals, and sequence all materials in a manner that make sense to your own practice and student's learning to make sure that ultimately students will achieve the course outcomes. Either plan, however, it's important to calculate the minutes of all activities to satisfy 720 minutes, which is the total hour requirement for one online course, including the exam and independent research reading. As for the content, the course requires 5-8 minutes long per one lesson. While it sounds lengthy, one does not need to follow the lecture style but embed various elements like documentary, film, role play, infographic, etc., and ensure that the students feel included, comfortable, and connected to the class.
Before choosing the team, the production companies will propose how to manage the lessons with their professional insights and enrich the work plan. The shooting location will be also decided; in-campus or out-campus. Several creators decide to use stock footage as a background to save money, and for convenient reasons. The production team will walk you through the whole process, and figure out what makes you shine the most in front of the camera.
For the storyboard, the expert reckons that it will be extremely difficult to deliver the speech if it was put in a paragraph format. Thus, the speaking language or dialog format is more favorable. Moreover, in each page of the script, you can add symbols as a reminder of what's going to happen during or at the end of that dialog; presentation, video, infographic, discussion, etc. In terms of the format, it's best to use the same format for every lesson. Consistency allows the students to know exactly what will come after one another, and what teachers expect them to perform. If your course features any materials that don't originally belong to you, remember to respect intellectual property rights and contact the data owners for fair use. The production company will help you write a letter requesting permission to use copyrighted materials, or handle the purchase document if payment is needed.
When delivering the content, try to use the different voice tones in each part of the speech to spur up students' interest and maintain the interaction between teacher and learner. Besides this tip, you can put some gimmick or highlighter into the course, such as gamify the content and set a score and add rules to allow learners to move through the course, inspire and augment their engagement. It's suggested to film yourself and time the actual script for the film director to see prior to the shooting day in order for him to see your real character, make adjustments accordingly, and come up with elements making you look good and appealing to the audience.
On the filming day, the scence will be shot based on the shooting script provided by the production team. They won't not only monitor your acting, but also the way you beat the script and emit emotions. It's very crucial to remember that students perceive more than what you said. They perceive positive traits such as energy, warmth, and other nonverbal communication. That's why the strong character tends to attract more audience, and by being courageous and confident you're leaving no shadow of a doubt that you know what you're talking about, you're good at what you do and you are an expert in this field, and they can be assured that they are in good hands. Editing process will start after the filming is done. This is when every element will be combined together; infographic, music, footage, video, animation, etc., and sequenced as follows; introduction video, teaser video, and lesson video.
With online courses, students are offered the promise of access, potentially redefining educational opportunities for all through artificial intellligence, latest technology, and the student's ability to control over the learning pace and the choice of content. Moreover, it's true that online courses offer more flexibility to both teacher and learner. But it is far from easy. The risk of losing students is as high as a traditional classroom, if not greater. Having the best content or the best production team doesn't guarantee the success of your course, nor the achievement of students. It's already difficult to get students enrolling into your online class, but having them accompany you until the end is way more challenge and complex. To create a successful online course, it's important to differentiate your offer from what's out there and make your audience realize that you aren't only there just for the sake of teaching, but rather to create a strong connection. By getting them interested, you get your message across and, most importantly, you're giving them the reason to listen and come back for more.