Workshop 7:Want to Develop a New Online Course for MUIC CONNECT?
March 22, 2022
2022-03-22 12:57
Workshop 7:Want to Develop a New Online Course for MUIC CONNECT?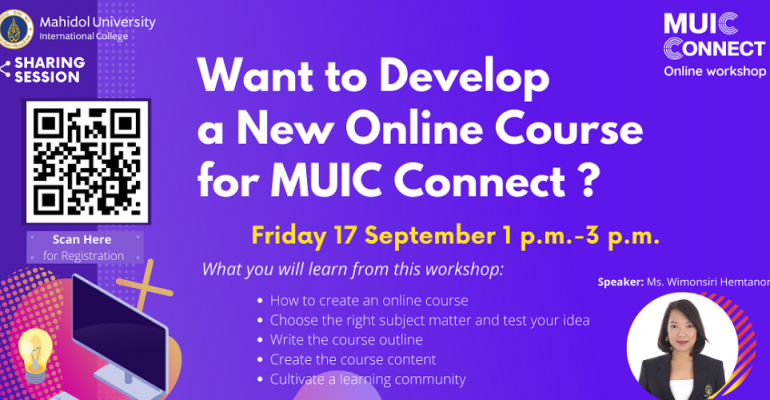 Workshop 7:Want to Develop a New Online Course for MUIC CONNECT?
Title: Want to Develop a New Online Course for MUIC CONNECT?
Date & Time: Friday, 17 September 2021 from 1.00 – 3.00 p.m.
Conductor: Ms. Wimonsiri Hemtanon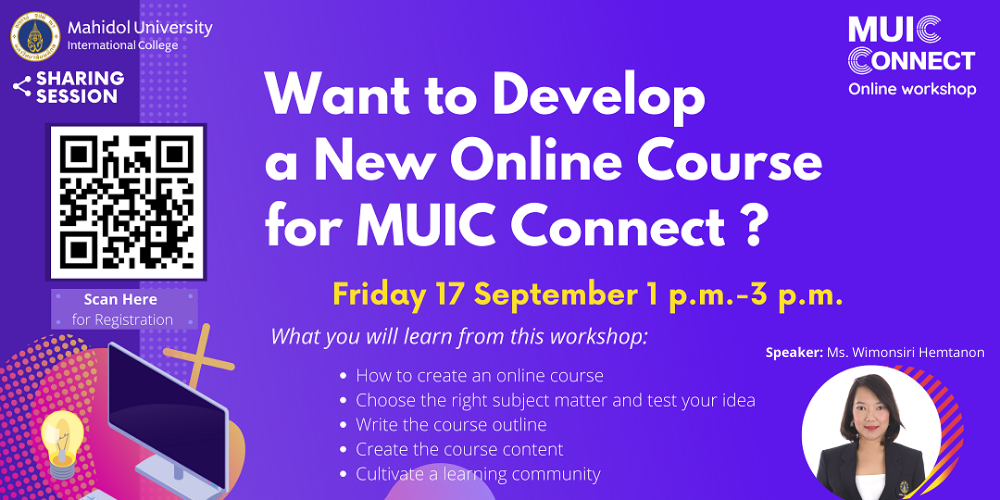 The Strategy and Academic Development Section under the OAA and the EdTech organized its 1st workshop (the academic year of 2021-2022) entitled 'Want to Develop a New Online Course for MUIC CONNECT?'. The purpose of this workshop was to encourage participation in phase III of MUIC CONNECT, and learn the basics of how to create an online course from the practical experiences of those who have already created one.
Since online education is seen as a new trend in the field of education, MUIC has also decided to offer a variety of high quality online courses for free to public learners without cost through its own platform 'MUIC CONNECT'.
Due to the rise of online education, it's easier than ever for individuals to engage in lifelong learning. It is seen not only enhancing social inclusion but also enabling the workers to maintain their employabilities and stay competitive. MUIC CONNECT aims to connect public learners with new knowledge and the latest developments to create opportunities for self-development both at personal and professional levels.
First, when designing an online course, one needs to know their targeted audiences: Who are they? How does my course serve them? In which aspect? Do they earn a credential or academic credit for finishing my course? etc. The audiences must be aware of what this course is about, what is offered to make the course different from what's out there in the market, and what criteria for passing the course. It's very crucial to take time to research the prospective learners because it will help to better market the course, better visualize each learner type, and therefore, give you the ability to design and develop a more effective course.
To develop an online course and apply for MUIC CONNECT, lecturers are required to complete the following five forms:
1. The application form – This first form requires details of the basic structure of the course with specific information and sub-topics, including the types of media to be produced (video with motion graphic, role-playing, interview, demonstration, animation, etc.)
2. Online course analysis and design form (Instructional design form) – This form acts as a guideline for the developed, the production house, and the EdTech team. Using this form as a guideline, each party involved can communicate clearly the ideas and the objectives to be achieved as part of the production plan. In this form, the topics must be broken down in detail, including learning objectives, key messages, and details on how much content will be delivered. So the clearer the outline is, the better the course will be produced and executed.
3. Quiz form – In this form one needs to specify the relation between the quiz's questions and the learning objective, as well as the level of behavioral measurement (knowledge, comprehension, application, analysis, synthesis, or evaluation) those questions are meant to measure.
4. Final – Similar to the quiz form, this form requires whether the asked questions relating to all the designated topics.
5. Materials and external link Form – Here one needs to match the materials and external link to be used with the learning objective and level of behavioral measurement the course intends to achieve.
One online course takes about 720 minutes or 12 hours of total learning hours. Every activity in the course must not exceed the time limits mentioned above, including examination and students' independent research reading. For video production, one online learning equals 20 minutes of video, which means 12 online learning hours equal to 240 minutes of video, maximum.
One of the one-learning hour models proposed by the speaker is the combination of the 20-minute video, one quiz (4 minutes per one quiz – question & answer included), one final exam (4 minutes per one final exam), and one page of material (30 minutes), when combining all elements together, the length of one online learning hour will cover 60 minutes exactly. The basic concept underlying this design is that every element contributes to the course appropriately, and the learner is exposed to the same learning experience as in the physical classroom.
When designing the course, not only the content matters but also the materials and additional resources. You have to make sure that they are related to the topic taught and covered the learning objectives, and sequenced appropriately. Plus, make sure that you are not inadvertently committing copyright infringement. Instead of using protected and/or costly materials, the production team can help you – especially if you are a budget-conscious course creator. It's important to remember that to design an online course and run your MUIC CONNECT requires a considerable time commitment and full buy-in from every party involved as it's likely to take over a period of 9-12 months, from submitting a proposal, writing, producing, editing the course, to launching the real course.
People increasingly realize that formal education isn't the only way to recognize and develop talent. The young generation is exposed to lifelong learning concept and foster their traits from early on. This idea spreads to the older generation as well, more and more people embrace MOOC to become adaptable, flexible, and competitive in a fast-changing world. Moreover, in terms of institution and teacher, MOOC provides a chance for them to reach out to a wider audience on a global scale, and utilize the data mining process to study and predict both student and teacher's performances, learning habits, motivation, learning trends, to track the academic progress, improve teaching practices, and most importantly, keep up with the world.